Fashion, lifestyle, art and enjoyment
Fünf Höfe
Regarded by many as one of the most elegant shopping malls in Munich. Spanning 17,500 sqm, this architectural synthesis of the arts presents a mix of fashion, lifestyle, art and enjoyment and attracts more than seven million visitors every year. The Fünf Höfe (Five Courts) complex offers a total of 64 exclusive shops, restaurants, bars and specialty stores as well as displays of culture at the Kunsthalle Munich and the Galerie Wittenbrink.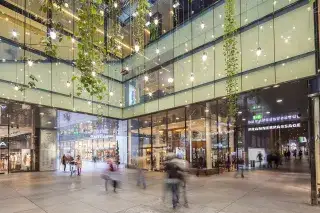 Shopping in Style
In the Fünf Höfe no shopping wish remains unfulfilled. Here you will find everything which makes life more beautiful, more enjoyable and more diverse. Sunglasses to match your new outfit? No problem. An unusual gift for lovers of interior design? The selection is inspiring. Literature and press products for relaxing hours of reading? Why certainly! Be it fashion, cosmetics, accessories, interior design ideas, artistic expression, goldsmith's craft, books or groceries for daily living – small delicatessen stores, individual boutiques and the representatives of world-renowned labels invite you for a lavish shopping spree and provide new inspirations. 
Enjoying with All of Your Senses
Even outside the opening hours of the stores, the Fünf Höfe shopping arcade is experienced as a lively and popular magnet in the heart of town. Some enjoy their morning Espresso, others meet for a healthy business lunch or a romantic dinner. The cafés, bars and restaurants of the Fünf Höfe serve up a multi-facetted culinary offering, ranging from snacks to the trendiest dishes, from Italian to Thai, and even star cuisine is represented here.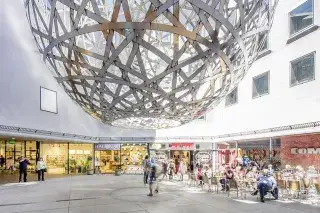 Visual Masterworks
The Kunsthalle Munich features top international exhibitions. The Galerie Wittenbrink is a port of call for contemporary painting, sculpture, photography, and more. Following a museum visit you can deepen your impressions in the Cedon Museum Shop. Here art lovers will find literature and other souvenirs relating to the exhibition currently on display in the Kunsthalle München. Art is omnipresent in the Fünf Höfe, not only in the galleries but also floating way above your head in the form of a spectacular steel sculpture by Olafur Eliasson and the "Hanging Gardens" by Tita Giese.
Additional information as well as an overview of all stores and caterers is available at www.fuenfhoefe.de and at Facebook.

CityQuartier Fünf Höfe
Theatinerstr. 15
80333 München
Phone: +49 89/ 24 44 95 80

Opening hours
Mo-Fr: 10-19h
Sa: 10-18h