Discovers painting from the 14th to the 18th century
Alte Pinakothek Munich: Information about exhibitions, artists and paintings
As one of the most important painting galleries in the world, the Alte Pinakothek shows European painting from the 14th to the 18th century. Wondering what highlights there are to see? Stay glued here.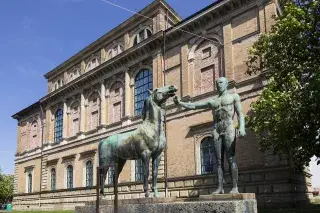 Katy Spichal
In cooperation with the cultural department and the museums
This article about Munich's museums is sponsored by the Cultural Department of the City of Munich and was conceived in cooperation with the State Agency for Non-State Museums in Bavaria. The content has been coordinated between the participating museums and muenchen.de, the official city portal.
The Alte Pinakothek at a glance
Well over 700 paintings are on display in 19 halls and 47 cabinets. Since 1836, art enthusiasts have been wandering through the impressive rooms on two floors created by the architect Leo von Klenze, where they marvel and experience the following:
Highlights of art history: By Albrecht Dürer, Rembrandt and Albrecht Altdorfer, for instance.
Art of the grand masters:  Among others paintings by Botticelli, Da Vinci, Raphael, Titian or Rubens
The collection of Old German painting is the most extensive of its kind
Special exhibitions , workshops, readings, concerts or film screenings
Children's programs , guided tours and drawing courses
Museum store and café
The history of the Alte Pinakothek
King Ludwig I of Bavaria was a passionate art collector. Around 1820, he decided to make his treasures accessible to the public and commissioned his court architect Leo von Klenze to design a worthy art gallery. Construction work began in 1826. Klenze designed his masterpiece to be both magnificent and functional: large halls lit by skylights are perfectly complemented by cabinet rooms on the north side. In 1836, the then new and now Alte Pinakothek was opened. Among its treasures is an extensive art collection of the Wittelsbach family.
The building was severely damaged during the bombing nights of World War II. The way the building was rebuilt until 1957 is a matter of taste, as architect Hans Döllgast opted for repair rather than reconstruction. Missing pieces of the facade were replaced with an unrendered brick masonry. The effects of the war are thus still visible today and not hidden.
Alte Pinakothek Munich
Barer Str. 27
80799 München

Tel: +498923805216

This is a carousel with rotating cards. Use the previous and next buttons to navigate, and Enter to activate cards.