Closure because of general renovation until around 2025
Neue Pinakothek Munich: Art museum (closed for renovation)
For construction reasons, the Neue Pinakothek is closed since 1.1.2019 until probably 2025. Where you can still admire the works.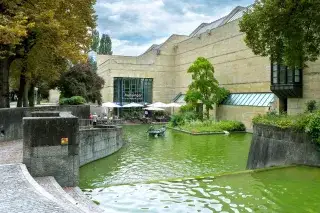 g215 / Shutterstock.com
Neue Pinakothek: Pictures and Highlights
The Neue Pinakothek provides an overview of the epochs of European art from the Enlightenment to the beginning of modernism. Nearly 400 works from the late 18th, 19th, and early 20th centuries are on display here, for example:
Van Gogh's Sunflowers
Spitzweg's Poor Poet
Piloty's Triumphal Procession of Germanicus and King Ludwig I.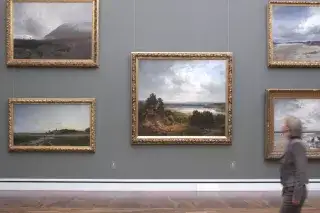 Despite renovation: Here you can see the most important works
Visitors do not have to do without the most important works of the Neue Pinakothek despite the renovation:
A selection of the paintings can be seen in the Schack Collection.
Other paintings and art objects can be found in the east wing of the Alte Pinakothek.
Why is the Neue Pinakothek being renovated?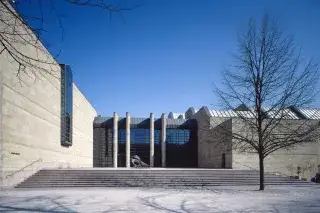 To ensure that the works of the Neue Pinakothek can continue to be shown in an appropriate setting, an urgently needed general renovation has been underway since the end of 2018. 
The postmodern building of the Neue Pinakothek was opened in 1981 according to the plans of architect Alexander von Branca. But by 2018, the building was getting on in years. During heavy rain, water dripped through the roof. The technology for ventilation or air conditioning, for example, was also outdated. In addition, the walls were contaminated with pollutants such as asbestos.
The History of the Neue Pinakothek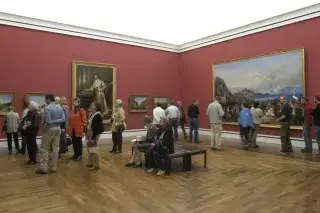 When it opened in 1853, the Neue Pinakothek was the world's first collection of "modern" art. It formed the antithesis to the Old Masters, which had been exhibited in the Alte Pinakothek since 1836.
The foundation of the collection, as well as the commission for the building, came from the Bavarian King Ludwig I. The main focus is on landscape, genre and history paintings, German Romanticism with Caspar David Friedrich and the Munich School around Karl von Piloty. Works by the artists von Schwind and Spitzweg as well as the German Romanticists von Marées, Böcklin and Anselm Feuerbach were also part of Ludwig I's collection.
German Impressionists such as Liebermann and Corinth had their place, as did the French Impressionists around Degas, Monet, Manet and Renoir. The latter arrived at the Neue Pinakothek through a generous private donation. Works by Gauguin, van Gogh, and Cézanne, for example, represented the forerunners of modernism.
Neue Pinakothek Munich
Barer Str. 29
80799 München

Tel: +498923805195

Accessibility - Direction