Discover extinct animals and plants from prehistoric times
Palaeontological Museum in Munich: Dinosaurs and fossils from the Stone Age
The Palaeontological Museum in Munich takes you on a journey through the history of the development of the earth and living creatures. What is there to see?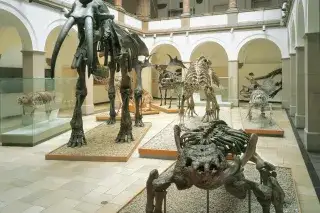 Paläontologisches Museum München
The Paleontological Museum at a glance
The Palaeontological Museum is the publicly accessible area of ​​the Bavarian State Collection of Palaeontology and Geology. Here you can admire at close range skeletons and other remains of long extinct animal and plant species, for example:
Dinosaur
the giant deer
the saber-toothed tiger
a primitive elephant
Regular special exhibitions are dedicated to specific species or topics.
Taking a couple of hours to tour the museum is ideal and getting there is easy from the central station to Koenigsplatz, then walk from there.
Star of the paleontological collection is a prehistoric elephant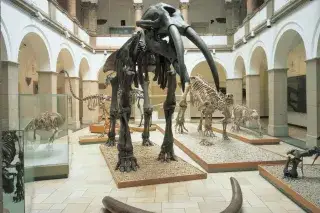 The primeval elephant "Gomphotherium of Gweng" is the highlight of the museum. The impressive skeleton of the prehistoric animal was recovered from the bed of the Inn River in 1971 and represents one of the most remarkable fossil finds worldwide.

The original skeleton consists of 170 preserved individual bones and is kept in the collection rooms of the Bavarian State Collection of Paleontology and Geology. A cast is located in the exhibition rooms of the Palaeontological Museum and has been the focal point of the exhibits for over 30 years.

Once a year, visitors can admire the original bones of the prehistoric elephant on the open day.
Entrance fee
Admission to the museum is free.
Palaeontological Museum in Munich
Richard-Wagner-Str. 10
München

Tel: +498921806630

This is a carousel with rotating cards. Use the previous and next buttons to navigate, and Enter to activate cards.