Modern and contemporary art in the city hall
Rathausgalerie Kunsthalle at Marienplatz: Information about the exhibition
The Rathausgalerie Kunsthalle on Marienplatz shows works by Munich artists of international significance. The gallery makes culture and artistic innovation accessible to the public in a place of inspiration and encounter in the center of the city. What you can experience here.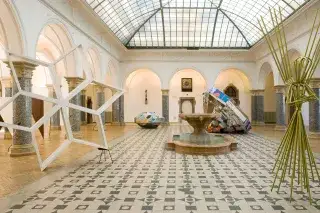 Wilfried Petzi
Current exhibition
The Department of Urban Planning and Building Regulations of the City of Munich is currently showing its annual exhibition 2023 in the City Hall Gallery. Entitled "In all publicity", it focuses on public space in Munich from until March 26, 2023.
Rathausgalerie Kunsthalle at a glance
From March/April  to November, the Rathausgalerie Kunsthalle shows works by local, internationally renowned artists.
On 650 square meters changing, thematically organized exhibitions are on display.
Admission to the exhibitions is free
History of the Munich Rathausgalerie Kunsthalle
Once characterized by a large glass roof and granite columns, the room in the New City Hall served as a counter. Since 1979, the cultural department of the state capital of Munich has exhibited contemporary art here. The Rathausgalerie is located in the former ticket hall of the New Town Hall and made its debut in 1979 as an exhibition space for Munich art. The columned hall is located under an eight-meter-high glass dome and is a place full of character for contemporary, predominantly regional art.
It sees itself primarily as a forum for the lasting appreciation of the artists living in Munich. The special location of the exhibition space is also part of the program: in the middle of the city center, a broad public is invited to take part in the art and to deal with it.
Rathausgalerie Kunsthalle at Marienplatz
Marienplatz 8
80331 München

Tel: +4915257946465

Barrier-free access
Barrier-free accessibility in the building
This is a carousel with rotating cards. Use the previous and next buttons to navigate, and Enter to activate cards.