What you can do at Lake Chiemsee in Germany near Munich
Lake Chiemsee: leisure tips and places of interest at Bavaria's largest lake
Lake Chiemsee is the largest lake in Bavaria and is located about 70 kilometres from Munich and has two larger islands: Herreninsel and Fraueninsel. The lake in Chiemgau offers many recreational opportunities for families and has numerous hotels and camping sites.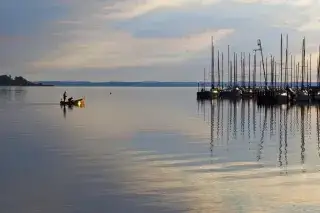 www.chiemsee-alpenland.de/Makrohaus
Lake Chiemsee at a glance
Location: About 70 kilometers southeast of Munich in the Chiemgau region (Bavaria, Germany).
Activities on and around the lake: swimming, boating, biking, sailing, hiking, climbing, golfing, horseback riding, skateboarding, ice skating, cross-country skiing, tobogganing
Islands: Herreninsel (238 ha), Fraueninsel (15.5 ha), Krautinsel (3.5 ha), Schalch (22m²).
Sights: Herrenchiemsee Palace and Monastery, Frauenwörth Monastery
Towns at the lake: Prien, Bernau, Gstadt, Übersee, Chieming, Breitbrunn
Directions from Munich to Lake Chiemsee
By train: From Munich main station take the regional trains in the direction of Salzburg to Prien am Chiemsee (57 min, also IC stop), Bernau (1:02h) or Übersee (1:08h).
By car: From Munich about 87 kilometers via the A8 Munich-Salzburg to the exit Bernau/Prien, travel time about 1 hour.
Places of interest: Herrenchiemsee and Fraueninsel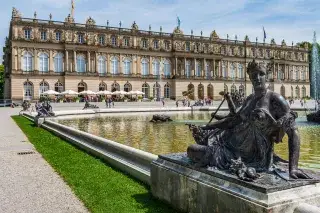 The Herreninsel is home to the magnificent Herrenchiemsee Palace, which Ludwig II had built from 1878 onwards on the model of Versailles Palace. Fraueninsel, on the other hand, is known for its picturesque tranquillity and the Frauenwörth Monastery, a place of contemplation and culture. Both islands offer breathtaking nature and are a delightful destination for an excursion.
Geography: The largest lake in Bavaria with about 80 square kilometers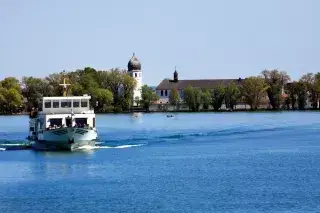 The largest lake in Bavaria (and the third largest lake in Germany) is an important refuge for endangered waterfowl and wading bird species. For this reason, it has been protected as a nature reserve since 1954. Its size of around 80 square kilometers earned the Chiemsee the nickname "Bayerisches Meer" (Bavarian Sea). Another reason for this is the change of tides, which one experiences here as if at the sea.
The lake measures 63.96 kilometers in circumference. In addition, there are the islands of Herrenchiemsee, Frauenchiemsee, Krautinsel and the municipality-free island of Schalch. The latter has an area of just 22 square meters and was artificially created. With a depth of 73.4 meters, Lake Chiemsee attracts visitors in summer with crystal-clear water and temperatures between 20 and 23 degrees.
History of the Lake Chiemsee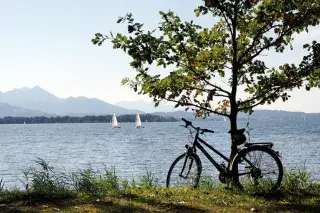 The lake, the municipality of Chieming and the Chiemgau region were probably named after a count called Chiemo.
Originally, Lake Chiemsee was almost three times as large when it was formed 10,000 years ago after the Würm cold ice age.
Because of the enormous loads of suspended matter and bedload from the main tributaries, it gradually became smaller.
In 1904, the water level was artificially lowered by one metre for land reclamation.
To prevent fertiliser residues and sewage from further polluting the lake, the ring sewage system around Lake Chiemsee was opened in 1989.