Sailing, windsurfing, relaxing and more at Lake Ammersee
Lake Ammersee: Recreation destination for boat or hiking tours
Lake Ammersee southwest of Munich is a popular bathing and recreation destination. Fishing, sailing, windsurfing, going on a boat cruise or hiking to Andechs Monastery with its famous beer garden: There is a lot to experience here.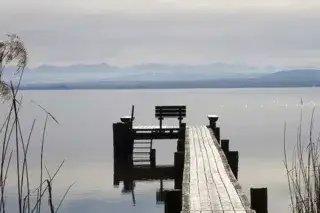 Tourismusverband Starnberger Fünf-Seen-Land
Lake Ammersee at a glance
Location: About 40 kilometers southwest of Munich, Bavaria's third largest lake, the Ammersee, is located in a municipality-free area.
Size: Its narrow shape covers an area of 46.6 square kilometers.
How to get there: Take the S-Bahn to Herrsching, because this is the best place to get to Bavaria's third largest lake, the Ammersee. Although the crowds are great in summer, everyone can find their place along the eight-kilometer-long lakeside promenade.
Leisure: Free sunbathing lawns, playgrounds, jetties with diving towers and sports fields make the shore attractive.
Water temperature: Already in June the water has a pleasant bathing temperature of over 20 degrees.
Water quality: Just as excellent as that of the other lakes in the area.
Water sports: paradise for sailing and stand up paddling
Lake Ammersee offers the best sailing conditions:
During the season there are up to 5000 sports and sailing boats on the water.
Every year famous competitions like the "24-hour regatta", the "Drachen-Humpen" or the "Oktoberfestregatta", which is one of the biggest European star boat regattas, take place.
But also water skiing, canoeing and stand up paddling are possible.
Those who prefer to gondola leisurely over the water can rent rowing boats, pedal boats and electric boats
Boat trip: exploration by paddle steamer
On Lake Ammersee there are still old-fashioned paddle steamers, which make the trip across the blue-green lake a nostalgic trip:
You can get on and off the ship at various places and thus customize your excursion. Landing stages are in Herrsching, Breitbrunn, Buch, Stegen, Schondorf, Utting, Holzhausen, Riederau and Dießen. The season of the Bavarian Lake Navigation runs from Easter to October.
Leisure at the Lake Ammersee
In addition to water sports, there are plenty of land activities on offer:
Golfing, climbing, horseback riding or ballooning - just to name a few.
Hobby fishers also get their money's worth here, because char, zander, perch, lake trout, pike or eel can be fished out of the water.
There are numerous boat tours to explore the lake and its many nature reserves.
In summer, the nature labyrinth "Ex-Ornaments" in Utting is a must for families. Spread over 14,000 square meters, a maze of hemp and sunflowers beckons with a straw stadium, observation tower and pumpkin tunnel.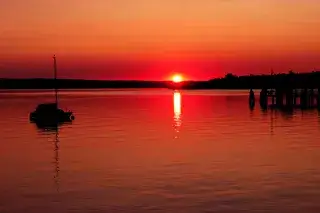 Hiking to Andechs Monastery
A hike to Andechs Monastery is especially enjoyable in summer, because the coolness of the monastery offers a welcome change on hot days.
Approximately two hours on foot from Herrsching on easy paths through a wooded area. If walking is too strenuous for you, you can take a car or bus directly to the monastery.
On a hill above the Ammersee, it is a popular place of pilgrimage. In Bavaria, it is respectfully called "Heiliger Berg" (holy mountain). But it's not all about religion here: the brewery and beer garden also attract many people from Munich, locals and tourists.