The "bathtub of Munich": swimming, diving or boating in Lake Starnberg
Lake Starnberg: swimming, hiking or visiting the beer garden
Only about 25 kilometers southwest of Munich lies Lake Starnberg, which is also called the "bathtub of Munich" because of its proximity to the city. What makes the lake so special: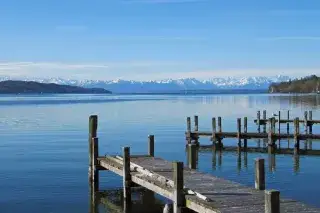 Region StarnbergAmmersee
Lake Starnberg at a glance
Lake Starnberg is Bavaria's second largest lake and is considered one of the richest in water in all of Germany.
For numerous residents of Munich and tourists, it is a popular destination for swimming, sports and recreation, especially since it is easy to reach by suburban train.
With a depth of up to 128 meters, it stretches 21 kilometers in width and 5 kilometers in length.
The lake is also very suitable for boating - either with the Bavarian Lake Navigation or with a rented sailing boat.
Trips: cycling, hiking, rose island and festivals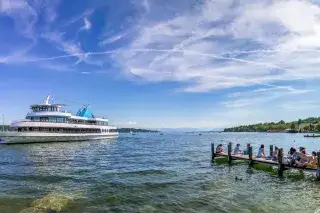 By bike: A path of just under 50 kilometers leads around the lake away from the main roads. This is ideal for a one-day bike tour.
On foot: Particularly recommended is the nature reserve at the nearby Osterseen, a high moorland landscape consisting of 19 small lakes, the "tears" of Lake Starnberg.
Festivals: Many cultural events take place in the communities around Lake Starnberg the historical play of the Fishermen's Wedding Tutzing (every five years) or the Five Lakes Film Festival (every summer).
Rose Island: In the northern part, at the height of Feldafing, is the Rose Island, which can be reached by electric motor ferry.
By boat on the lake: round trip or sailing
Today, excursion steamers and countless motor or sailing boats cross the lake. There are various boat rentals in Starnberg, Tutzing, Seeshaupt and Berg. Sailing is especially popular. To rent a sailboat, most providers require the presentation of a sailing license.
Round trips on Lake Starnberg by excursion boat are not possible all year long, but always from mid-April to October. From June to September, the Bavarian Lake Navigation (Bayerische Seenschifffahrt) offers adventure tours such as brunch trips, romantic moonlight trips or steamer parties.
Diving in Lake Starnberg
Water depths of 128 meters, good visibility and many species of fish make Lake Starnberg a delightful world for divers.
In Berg, for example, visitors can view an old wreck at a depth of 8 meters.
Experienced divers go down the steep wall of Allmannshausen in the nature reserve. However, a special permit is required for access.
Diving courses are offered in Berg and Starnberg.
History of Lake Starnberg: Ludwig II and Empress Sissi
The lake was shaped by the great melting of the glacier. Originally it was called Würmsee, named after the river Würm. After the construction of the Munich-Starnberg railroad line, it became the favorite destination of many Munich residents, and the name Lake Starnberg was adopted, which has been officially valid since 1962.
The lake entered history through the death of Ludwig II, who drowned here in 1886. A memorial cross at the place of death in the water and a votive church commemorate the king's death.
Empress Sissi also lived in Possenhofen Castle until her marriage to Franz I of Austria.