Lake Tegernsee is one of the cleanest lakes in Bavaria
Lake Tegernsee: hiking and swimming in the foothills of the Alps
As one of the cleanest lakes in Bavaria and encircled by the Alps, Tegernsee is a popular vacation spot for many.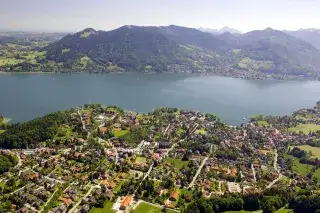 Tegernseer Tal Tourismus GmbH
Tegernsee at a glance
Location: In the Tegernsee Valley of the Upper Bavarian district of Miesbach, framed by mountains such as the 1722 meter high Wallberg, lies Lake Tegernsee.
Size: 18,000 years ago, a basin broke in the glacier located there and filled with water. Today it stretches 6.5 kilometers in length, 1.5 kilometers in width, forming Lake Tegernsee.
Nature: Its shores are lush with reeds and are open to the public almost everywhere. Due to its drinking water quality, it is one of the cleanest lakes in Bavaria. In the south are two larger bays and the Ringseeinsel, which is a protected nature reserve.
Places: The communities of Tegernsee, Gmund, Rottach-Egern, Kreuth and Bad Wiessee are popular resorts.
How to get there: By train: From Munich main station with the Bayerische Regiobahn to Tegernsee station. Journey time: 1 hour
By car: Motorway A8 Munich-Salzburg to exit Holzkirchen and then B318/B307 to Tegernsee. Journey time: approx. 1 hour
Bathing and swimming: Numerous baths in summer
Lake Tegernsee offers many bathing places. In Bad Wiessee there are lidos with shady trees and jetties into deeper water for swimming.
Family-friendly because of the shallow water are the lido Seeglas or Kaltenbrunn in Gmund. Tegernseer Point attracts with sandy beach, Ringseebad with deck chairs and umbrellas.
Because of the ring canalization built in the sixties, the water of Lake Tegernsee has drinking water quality.