Munich's Baroque Swimming Pool: Opening Hours, Sauna and More
Müller'sches Volksbad: Swimming in a stylish ambience
The Müller'sche Volksbad is the oldest public indoor swimming pool in Munich. Since 1901, the Art Nouveau building has been enticing visitors to bathe and take a sauna.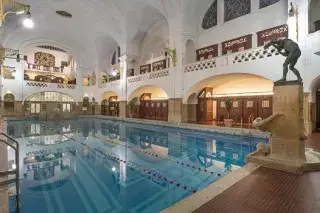 Stadtwerke München
The Müller'sche Volksbad at a glance
The Müller'sche Volksbad has two pools, the warmer one is more for relaxing, while the slightly colder one is for sporting activities.
The bath has a Finnish sauna with colored light effects with steam bath and cascade fountain, furthermore an Irish-Roman sweat sauna
The Müller'sche Volksbad stands out from other baths in the city mainly due to its almost baroque architecture
Impressive architecture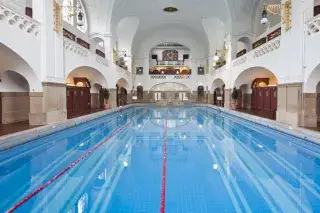 The sight is definitely impressive: the large pool is crowned by a barrel vault with gallery. Numerous Baroque-inspired elements such as wall paintings, stucco, bronze statues and ornate iron grilles can also be found in the bath.
The two pools were once strictly separated into female and male bathers. Today, they differ only in their water temperature: the former women's pool invites you to bathe and relax at 30 degrees. The "men's pool", which is around 3 degrees cooler, caters to sporting requirements. In addition to regular bathing, various courses such as rhythmic water gymnastics and aqua fitness are offered here.
Sauna, steam bath and Roman-Irish sweat bath
From the time of its opening, the Müller'sche Volksbad in the Au-Haidhausen district of Munich has rescued an old bathing culture into the 21st century: for more than 100 years, bathers have been able to relax in a Roman-Irish sweat bath faithfully recreated from the original.
In addition to the steam bath with cascading fountain, the Müller'sche Volksbad also offers a Finnish sauna with colored light effects and changing infusions.
A massage rounds off a visit to the Müller'sche Volksbad.
Opening hours and entrance fees
Opening hours, current occupancy, equipment and information can be found on the official page of the Stadtwerke München about the Müller'sche Volksbad. Though, with the S-bahn, you can stop at Isartor and walk to the location. (Endeavor to find out about corona restrictions prior ro your visit).
This is a carousel with rotating cards. Use the previous and next buttons to navigate, and Enter to activate cards.