Munich Christmas Market 2023 at Marienplatz (Münchner Christkindlmarkt)
The municipal Munich Christmas Market (Münchner Christkindlmarkt) will take place from Monday, November 27 to Sunday, December 24, 2023 at Marienplatz and Rindermarkt. The traditional Christmas market is an event of the Department of Labor and Economic Affairs (RAW) of the City of Munich.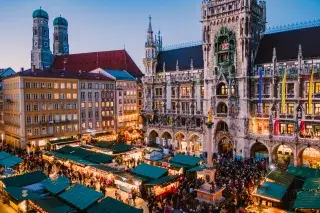 Anette Göttlicher
About the Munich municipal Christmas market
Since 1972, the original Munich Christkindlmarkt, which dates back to the 14th century, has been held on Marienplatz. After a two-year Corona break, 135 merchandise and gastronomy stalls were back at the market in 2022. The program included Advent music from the town hall balcony, the Krampuslauf or the Himmelswerkstatt for children.
Nativity market at the Old Peter
The Kripperlmarkt in front of the church Old Peter is with its assortment probably the largest of its kind in Germany. At the stalls there were complete nativity scenes, individual figures and everything you need to decorate a nativity scene.
The supporting program of the Christkindlmarkt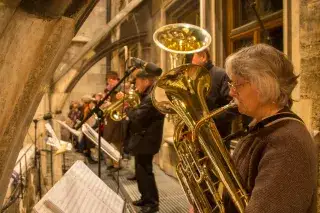 Information on events at the Christkindlmarkt 2023 will follow. This was offered in 2022:
 
Advent music live from the town hall balcony
From Sunday to Thursday, Bavarian bands played in the evenings on the Town Hall balcony.
Heavenly workshop (Himmelswerkstatt)
Children ages 6 to 12 could make Christmas gifts in the craft room at City Hall.
Singing under the Christmas tree
Presenter Traudi Siferlinger invited visitors to the Christkindlmarkt 2022 to sing Christmas carols.
Krampuslauf
20 groups with about 300 dressed up participants took part in the December 11, 2022 run through the Christkindlmarkt.
Munich Christmas tree
The Munich Christmas tree at Marienplatz in 2022 was a 25 meter high Siberian silver fir. The 50-year-old tree was a gift from the municipality of Hohenpeißenberg and was erected on November 3. At the opening of the Christkindlmarkt on November 21, 2022, the approximately 3000 LED candles were lit for the first time and shone daily from 4 p.m. to 11 p.m. until January 6, 2023.
Opening hours
2023: 11/27 - 12/24/2023.
The time schedule will follow.
Venue: Marienplatz - approach by S-Bahn, U-Bahn or streetcar 19/21.