Performances in the Residence: The Cuvilliéstheater in Munich
Cuvilliéstheater Munich: History and architecture
Since the middle of the 18th century, the Cuvilliéstheater has been considered one of the most beautiful rococo theaters in Europe.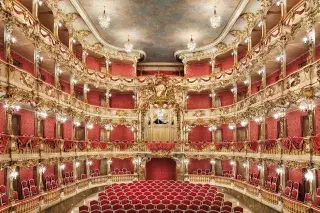 Bayerische Schlösserverwaltung
The Cuvilliéstheater: The most important information
The former Residenztheater (not to be confused with today's) is considered the most important rococo theater in Germany
It has four floors, each with 14 boxes, each decorated in red and gold
The Cuvilliéstheater is especially popular with its visitors for its small operas, festive concerts and plays
In addition to the concerts and plays, the house can also be visited on guided tours
Getting to  Cuvilliés Theater, Residenzstrasse 1, 80333 Munich is easy with a tram 17 and stop at NationalTheater, then take a short walk to the spot
History of the Cuvilliéstheater
The theater was built in the mid-18th century by Elector Max III Joseph according to plans by architect François Cuvilliés.

Parts of the ornately carved box panelling of the auditorium were saved from the complete destruction of the theater in World War II and helped in the detailed reconstruction.

Thus, at the end of the 1950s, the rococo theater could be rebuilt in the so-called "Apothekenstock" of the Residenz, not far from its old site. In honor of its architect, it was henceforth called the Cuvilliéstheater.
Cuvilliéstheater
Residenzstr. 1
80333 München

Tel: +498921851940
Fax: +498921852185

Barrier-free access
Barrier-free accessibility in the building
Accessibility - further information