Flaucher: Relaxation at the shores of the river Isar
The Flaucher (river bank): Munich's popular meeting place at Isar River
For many locals, the Flaucher is the epitome of summer at the Isar river. The Flaucheranlagen are green areas and invite you to barbecue and relax.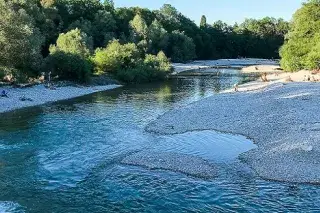 Anette Göttlicher
The Flaucher: What awaits you
The Flaucher stretches from the Brudermühlbrücke over the Tierpark to the southern city limits.
In summer, the Flaucher offers you relaxation and barbecue on the gravel banks: Info about barbecuing in Munich
In winter, this section of the Isar has its charm for walks when snow lies over trees and gravel. Here, the Flaucher offers deceleration in the hustle and bustle of the city.
Wild water noise and relaxing at the Flauchersteg bridge
With its river channels, gravel banks and driftwood, the Isar lives up to its character as a wild water river. The Isar floodplains are an important area for flora and fauna.
Lying at the Flaucher area by the river shore, you might even hear a few seagulls and rare birds screeching. Especially beautiful are the small islands around the weir: a few hundred meters downriver from the bridge "Thalkirchner Brücke" the Isar turns northeast and forms a small waterfall at the weir locks.
Upriver is the Flauchersteg bridge, over which one reaches the arms of the river and clear water basins. Lined by bushes and trees, you will always find a secluded spot here.
Barbecue at the Flaucher and in the Isarauen
Particularly in summer, Munich's residents use the Isarauen (river banks of the Isar) for barbecues, swimming and relaxing. The Flaucher is one of the most popular places alongside the river. Barbecues are allowed there. muenchen.de's Isar app for smartphones points out where to find the barbecue areas, litter bins, toilets and kiosks.