Munich tradition: The Auer Dult on Mariahilfplatz
Strolling, shopping, enjoying delicacies, or taking a spin on the carousel - that's what the Auer Dult is famous for. Three times a year the Auer Dult takes place on the Mariahilfplatz in Munich. The next Dult is the Maidult from April 27 to May 5, 2024.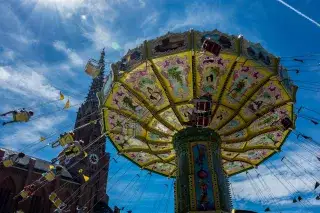 Michael Hofmann
The most important information about the Auer Dult
These Auer Dults exist: Maidult (spring), Jakobidult (summer), Kirchweihdult (fall)
Shopping: On the Dult you can find tableware, souvenirs, but also Bavarian costumes and all kinds of curiosities
Gastronomy: Tasty food and freshly tapped beer await you at numerous stands.
Rides: For the younger visitors there are some merry-go-rounds
How to get there: Underground U1 or U2 (stops: Fraunhoferstraße or Kolumbusplatz) ; Tram 18 to Mariahilfplatz
Jumble sale: What you can discover here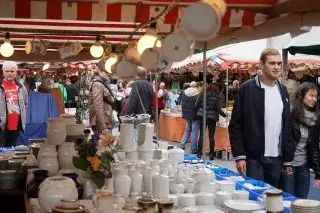 It is one of the major seasonal events in the city in recent times. Holding the largest jumble sale, it is a unique place to search for rarities and artefacts from ancient times.

A lot of stands offer rare books and old prints, haberdashery goods, natural hair and skin care, a largest selection of china and cooking equipment. Many authentic traditional garment (be it lederhose or dirndl) can be found here; and if you are lucky, you might find an actual treasure.
Carousels and pony rides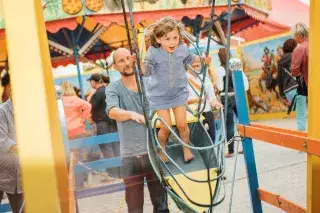 Children also enjoy horseback riding, the puppet show and carousels, one of which features a historic organ; teenagers will probably be more interested in a ride on the bumper cars or in testing their skills at shooting galleries. Acrobats and clowns entertain all generations just like in the old days.
Gastronomy: Fresh food and beer
After all the searching and entertainment, there is nothing like a good, tasty lunch. There are plenty of stalls selling fresh food and drinks like beer, fruit juices and fresh coffee. You can have that with traditional Bavarian snacks such as fish-on-a-stick, barbecued sausages and chicken. You'll also find caramelized almonds and plenty of candy.
Dates and opening hours
Dates for the Auer Dult in 2024:
Maidult (May Dult): 24 April - 5 May 2024
Jakobidult (St James Dult): 27 July - 4 August 2024
Kirchweih Dult (Church Anniversary Dult): 19 October - 27 October 2024
Opening hours (daily):
Maidult and Jakobidult: market 10am - 8pm / rides 10.30 am - 8pm
Kirchweihdult: market 10am - 7pm / rides 10.30 am - 7pm
Getting there
Tram line 18, Buses 52 and 62 to Mariahilfplatz or Subway (U-Bahn) lines U1/2 (Stations Fraunhoferstraße or Kolumbusplatz)
www.mvv-muenchen.de
Park and ride for car and bus travelers:
Garching-Hochbrück, Fröttmaning, Kieferngarten, Studentenstadt, Klinikum Großhadern, Neuperlach Süd, Michaelibad, Innsbrucker Ring, Fürstenried West, Candid- and Mangfallplatz
www.parkundride.de
History of the fair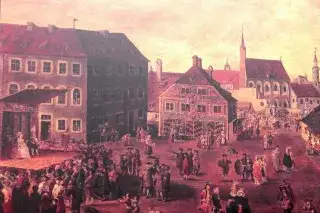 A "dult" was orginially a fair connected with an ecclesiastical celebration, attracting junk dealers, quacks and performers. The meaning of the word, however, changed over the centuries, and today it simply means "fair". "Auer" refers to its location in Munich's borough - "Au".
These types of fairs have a long tradition in Munich. They were mentioned for the first time in 1310. In 1796, the Electoral Prince Karl Theodor granted the Au suburb the right to hold a fair twice a year, and the "Dulten" has been held regularly. Since 1905, there have been three of such annual fairs at Mariahilfplatz.