Stadium in the North of Munich and home of FC Bayern
Allianz Arena: The stadium in Munich-Fröttmaning
The Allianz Arena, home of FC Bayern München is a stadium in the north of the city. Find info about it here.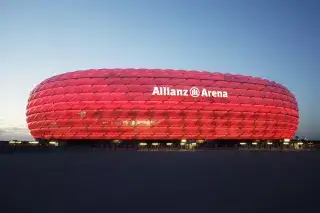 place-to-be / Shutterstock.com
Facts about the Allianz Arena
Location: Fröttmaning in the North of Munich
Opening: 2005
Maximum capacity: 75,000 seats in total (70,000 seats at international matches)
Construction costs: 340 million euros
Dimensions: 258 meters in length, 227 meters in width, 50 meters in height.
Outer shell material: A feather-light ETFE film just 0.2 millimeters thick, that withstands even harsh weather, is flame-retardant, does not age and cleans itself through rain
Allianz Arena: The stadium in Munich-Fröttmaning
Werner-Heisenberg-Allee 25
80939 München

Tel: +498969931222

This is a carousel with rotating cards. Use the previous and next buttons to navigate, and Enter to activate cards.