Hofgarten offers relaxation between the Dianatempel and the Residenz
The Hofgarten in Munich: All info about the park at Odeonsplatz
The Hofgarten in Munich's Odeonsplatz links the inner city with the Englischer Garten. Learn all about the paradise of relaxation.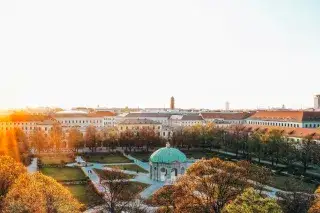 Maximilian Linner / Shutterstock.com
Hofgarten at a glance: Dianatempel, concerts and a beer garden
During a walk through the city center, the Hofgarten with the Dianatempel in the middle should not be missed.
The park with its many benches is also ideal for a short break while shopping
Concerts are held in the pavilion from time to time, usually with classical music.
The pavilion is also a popular meeting place for tango dancers.
The Café Tambosi at the Hofgarten is not only quite well known, but also has a nice beer garden.
Hofgarten: surrounded by significant buildings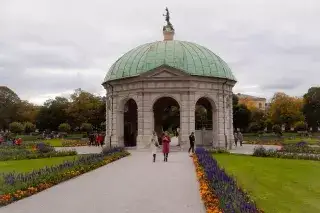 The Hofgarten, with its gravel paths, fountains, flowerbeds and round pavilion, is an enticing place to take a stroll or linger on one of the many benches. In addition, the Hofgarten is bordered by the Residenz and the Bavarian State Chancellery, two of the city's most important buildings, and Odeonsplatz, one of its most famous squares.
Munich natives as well as tourists like to come here - especially to relax. The people of Munich also know the boules players, who play their private tournaments on the gravel paths in good weather.
History of the Hofgarten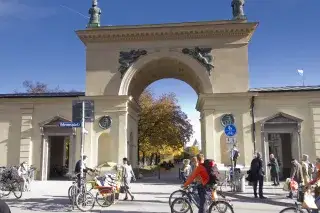 The Hofgarten came into being as an extension of the former royal palace, the Residenz, at the start of the 17th century under Duke Maximilian I and in line with the style of Italian Renaissance gardens.
Walking through its arcades, which enclose the Hofgarten on two sides, you can find different murals depicting moments from the history of the House of Wittelsbach. The very first work of famous Munich architect Leo von Klenze can also be seen in the Hofgarten: the Hofgartentor gate, leading onto Odeonsplatz (1816).