BMW Group in Munich
BMW Welt and Museum - Guided tours
Fascination BMW Group - with guided tours you can get exciting insights into the inner workings of a global brand, right in the heart of BMW Group in Munich.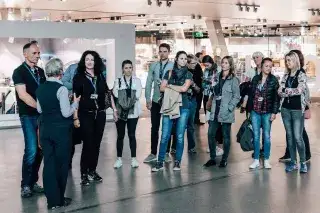 Exciting insights behind the scenes of the BMW Welt
Visitors can get the best insight into BMW Group in Munich with the various tours. The BMW Welt, the BMW Museum and the BMW Group plant offer both individual visitors and groups different tours with exciting behind-the-scenes insights. The tours in the BMW Welt, in the BMW Group plant and in the BMW Museum take place almost daily and can be booked on site, online, by phone or by email.
BMW Welt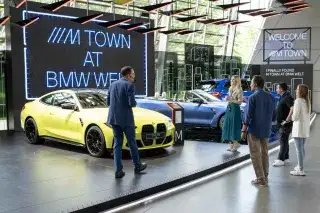 The tours offered by BMW Welt are all about the different facets of the BMW Welt experience. From the BMW Welt-Museum-Plant Tour, which is exclusively dedicated to the highlights of the BMW Welt, the BMW Museum and BMW Group Plant, to a BMW Welt Tour in which you can go on a journey through the BMW Welt experience and, for example, discover the logistics behind the car collection.
The tour offer also includes special tours and comprehensive tours that can be combined with the BMW Museum and the BMW Group plant.
BMW Museum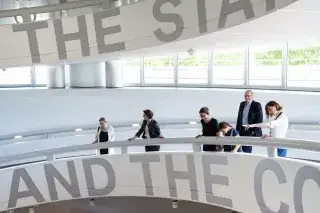 The overall view of BMW Group brand and product history in the BMW Museum shows over 125 of the brand's most important and attractive exhibits. Based on the originals, the guides explain the tradition and future of BMW in detail and comprehensively. A combined tour with BMW Welt is also offered.
BMW Group Plant
The BMW Group Plant in Munich produces over 900 automobiles and up to 1,400 engines every day. The production from the press shop to assembly extends over 12 halls. The tour of the BMW Group plant gives close insights into modern automotive engineering and is guided by the personal guide based on the individual information needs of the participants.
Information regarding the various tours at BMW Welt can be found here. You have the possibility to find the most suitable tour for you with the help of the interest query.
Recommendation
There is a choice of forays through BMW Welt, a look behind the scenes at the BMW Plant in Munich or the history of the company at the BMW Museum.
The recommendation for visitors is the BMW Welt-Museum-Werk Tour, which combines some of the highlights of all tours. From the moving tradition and history of the company in the BMW Museum, experience the fascination of production in the BMW Group Plant, and finally encounter all the brands of the BMW Group in BMW Welt.
Images from the BMW Welt and Museum