Gärtnerplatz makes Munich feel like Italy
Gärtnerplatz in Munich's Glockenbach district
Gärtnerplatz was built in 1860 as a central square in the Isarvorstadt district. Today, the square with its Mediterranean flair is the centre of Munich's trendy quarter.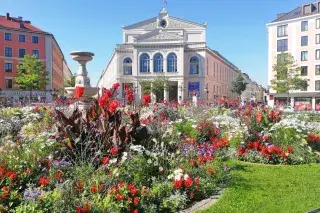 Leonie Liebich
The most important information about Gärtnerplatz at a glance
Location: in the district Ludwigsvorstadt-Isarvorstadt near the old town. You can also get there from the Munich central station via the U-Bahn stop "Fraunhoferstraße" (U1/U2) in less than 10 minutes. Gärtnerplatz is also only a good 10-minute walk from Marienplatz and the Old Town
Special features: theater, atmosphere, nightlife
History: Built in honor of the famous architect Friedrich von Gärtner, who designed the LMU University and Munich's Siegestor, among others.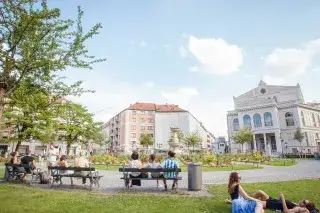 Flowers, architecture and ambience
The fountain and the lush flowerbeds in the center, the stepped building of the Gärtnerplatz Theater and the numerous cafés give the square an almost southern flair.
Especially in summer there is a lot of hustle and bustle here, because the Gärtnerplatz and its entire neighborhood are known for a colorful togetherness. Whether young or old, single or family: this is where people meet to linger and enjoy themselves.
Gärtnerplatztheater: A colorful mix of musicals and theater
The late classicist state theater has a decisive influence on the appearance of Gärtnerplatz. King Ludwig II made the Gärtnerplatztheater the Bavarian court theater of its time.
Today, it is considered Munich's "people's opera" and attracts numerous visitors every evening with its repertoire of operettas, musicals, plays and ballet performances.
History: Built in honor of Friedrich von Gärtner
The square was named after the architect Friedrich von Gärtner, in whose honor it was built.
Gärtner had rendered outstanding services to the city of Munich, for example, by planning the LMU university, the Ludwigskirche church or the Victory Gate.