Heilig-Geist-Kirche: works of art and places of interest
Heilig-Geist-Kirche: The Church in the city center at Viktualienmarkt
The Catholic Heilig-Geist-Kirche (Church of the Holy Spirit) at Viktualienmarkt is one of the oldest churches in Munich. Let's show you what makes the church so special: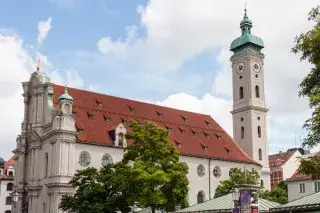 Sankt Michaelsbund
The most important facts
The Heilig-Geist-Kirche at the Viktualienmarkt is the oldest hall church in Munich.
It has been a hospital parish since 1271 and a city parish church since 1844.
The church contains numerous works of art from different centuries, and the high altar is particularly impressive.
The church has four bells named Heiliggeist, Maria and Josef, as well as the Breznreiter bell - which was added only in 2012. The latter is named after the medieval tradition of the pretzel rider, who brought food to poor people
Places of interest in the Heilig-Geist-Kirche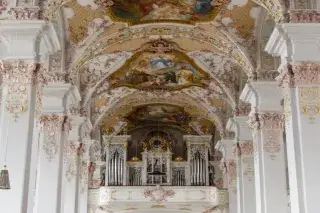 High altar
A special eye-catcher is the central altar, which was built between 1728 and 1730 of marble by stonemason Antonio Matteo and with carvings by Johann Georg Greiff. The altar was designed by Nikolaus Gottfried Stuber.

Frescoes in the central nave
Originally, the frescoes were painted by Cosmas Damian Asam between 1724 and 1730. They show, for example, King David with the harp or the foundation of the St. Spirit Hospital. During the bombardments of the Second World War, the frescoes were severely damaged and later restored by Karl Manninger.

Other works of art
Altar of the Virgin Mary with the Hammerthal Mother of God
Bronze funerary monuments of Duke Ferdinand of Bavaria and his wife
Wall frescoes with gifts of the Holy Spirit
History of the Heilig-Geist-Kirche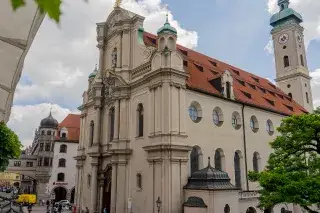 The start of the church traces back to the beginning of the 13th century. The chapel at that time is mentioned for the first time in 1250. In 1271 it then became the hospital church for the associated Holy Spirit Hospital, from which it also takes its name.

The church was destroyed in the Munich city fire of 1327, and reconstruction, led by master builder Gabriel Riedler, was not completed until 1392.

In the 18th century the Gothic building was baroqueized by the Asam brothers and Johann G. Ettenhofer, and extended several times in the following years. After enormous damage during the Second World War, reconstruction began in 1946.
Heilig-Geist-Kirche: The Church in the city center at Viktualienmarkt
Prälat-Miller-Weg 3
80331 München
Tel: +498924216890
Fax: +4989242168929

This is a carousel with rotating cards. Use the previous and next buttons to navigate, and Enter to activate cards.