One of the last preserved city gates of Munich: The Karlstor
Karlstor at the Stachus: What you should know about the city gate and its history
The Karlstor at Karlsplatz (Stachus) is one of Munich's old city gates and today the western border of Munich's busy pedestrian zone.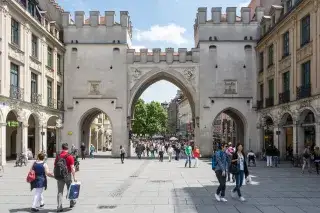 Shutterstock 199904597
The Karlstor at a glance
People often hurry from Karlsplatz through the gate onto the shopping mile of Neuhauser Straße without turning their gaze upwards. Yet the Karlstor tells Munich's city history and is a sight in itself.
It was built as early as the 14th century as part of Munich's second city fortification.
Until 1791 it bore the name "Neuhauser Tor" because it was located on the road leading to the district of Neuhausen.
In the main arch of the gate, the so-called collar heads protrude from the corners. They represent outstanding Munich personalities.
In the main passageway, a memorial plaque also commemorates Herbert Jensen, the initiator of Munich's pedestrian zone.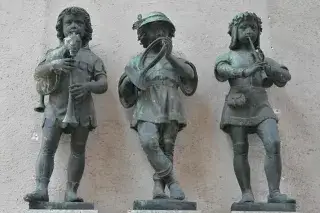 True Munich Originals: The Four Collar Heads
The four so-called collar heads in the central vault of the Karlstor commemorate outstanding Munich personalities:
Josef Sulzbeck (1767-1845) was a well-known folk singer and bandmaster in his time.
Georg Pranger (1745-1820), called Prangerl, was Bavaria's last court jester under King Max I Joseph.
Joseph Huber (1763-1829), known as "Finessensepperl" was a well-known messenger of love messages. 
Franz Xaver Krenkl (1780-1860) was a horse dealer, racing stable owner and hired coachman.
History of the Karlstor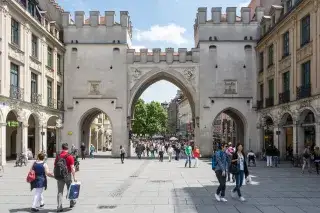 The Karlstor, formerly called Neuhauser Tor, was built next to the Sendlinger Tor and the Isartor in the course of the second city fortification in the 14th century. In the course of history, it was repeatedly expanded and rebuilt. It has been called Karlstor since the Falcon Towers were rebuilt under Elector Karl Theodor in 1791, when the Stachus was also given the name Karlsplatz.
In 1861 the gate was redesigned in Gothic style, the last change was made in 1902 by Gabriel von Seidl in the course of the construction of the adjacent Stachus roundel.
After damage during the Second World War, the Karlstor was rebuilt in a simplified form.