Munich building history in the Old Town - with palace, opera and theater
Max-Joseph-Platz in Munich: The square at the Opera
Max Joseph Square (Max-Joseph-Platz) is located next to the State Opera House and the Residence with its theatre. It was named after King Max I Joseph, who is also enthroned as a statue in the center of the square.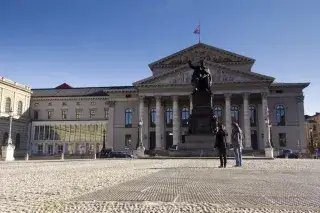 Katy Spichal
Max-Joseph-Platz: The most important information at a glance
History: The square was created in the early 19th century, when the Franciscan monastery there was demolished to make way for the construction of a national theater.
Architect: The square was designed by the famous architect Leo von Klenze, who left his mark on several buildings in Munich: among them are the Königsplatz, the Glyptothek and the old Pinakothek.
Monument: Maximilian I Joseph not only gave the square its name, but in 1835 a monument was dedicated to him in the center of the square.
Events: Every summer, the event "Oper für alle" (Opera for All) takes place on Max-Joseph-Platz.
Parking garage: Directly under the Max-Joseph statue is an underground parking garage with over 400 parking spaces.
Nice to know: Munich residents like to spend time at the sunny front of the palace.
Classicism meets skaters and shoppers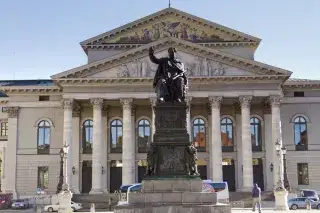 The facade of the Residence, the arcades of the old main post office, the classicist portal of the State Opera and the old town houses of Residenzstraße contribute to the appearance of the Max-Joseph-Platz.
From the steps of the opera house or the base of the royal building of the Residence, you can comfortably watch the hustle and bustle of the Munich people and the tricks of the skaters.