Monopteros: Perfect view over the city center of Munich
Monopteros in Munich: Lookout point and round temple in the English Garden
The round temple Monopteros is almost a landmark of Munich and offers a view over the English Garden and the towers of the city center.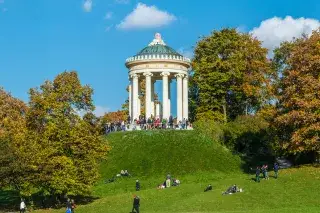 Mde / Michael Hofmann
The Monopteros at a glance
What is the Monopteros?  A 16 meter high, round ornamental temple in Greek style on an artificial hill in the English Garden
When was it built?  1833-1837 by Leo von Klenze
Why should you visit the Monopteros?  A great vantage point for photos: from the temple, the view sweeps across the English Garden to the towers of downtown Munich (Frauenkirche, City Hall, Alter Peter ...). In winter, small children can sled here.
Who do you meet here?  Tourists, students from the nearby university
How to get there? You can take a U4 to Prinzregentenplatz or U5 to Ostbahnof, then a bus 68 to English garden.
Monopteros: The history of the round temple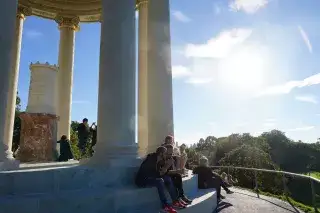 Leo von Klenze was commissioned by Bavarian King Ludwig I to build the round temple in the Greek style starting in 1833.
The 16-meter high filigree building made of limestone rests on a mighty 15-meter high brick foundation, which is elegantly concealed by an artificial hill.
In the 1960s, the Monopteros was a meeting place for alternative subcultures such as hippies - since then, it has been a symbol of Munich's cosmopolitanism.