Münchner Freiheit: local transport, restaurants, cafés and nightlife
Münchner Freiheit: A square with lots of history
Münchner Freiheit is one of the busiest squares in Munich, a place to hang around and shop, a traffic junction and gateway to the Altschwabing district: See all information here.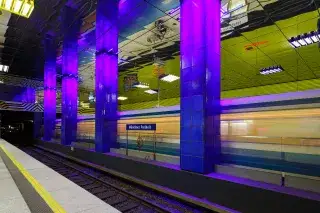 Shutterstock / 371210779
Münchner Freiheit at a glance
Shopping and eating: Right at the square and in the subway passage below, there are quite a few supermarkets, a large shopping center, several restaurants, snack bars and cafés, pubs, banks, a large post office and quite a few other stores.
Public transport: It is also a busy transport hub, with its subways, buses and streetcar line an important transfer station for many Munich residents. Getting to the station from the Munich central station is easy with the U-bahn.
Nightlife: It is the starting point for night tours through the pubs of Altschwabing or walks in the nearby English Garden.
The "Münchner Freiheit" stop has even won an award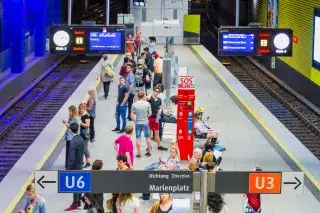 The Münchner Freiheit U-Bahn stop was opened in 1971 and completely rebuilt in 2008/2009 with a new lighting concept by Munich artist Ingo Maurer.
In Warsaw, the Münchner Verkehrsgesellschaft (Munich Transport Company, MVG) was bestowed the "Local Rail Award" by the UITP (International Association of Public Transport) in the "Stops and stations" category for the successful renovation of the surface transfer station and the modernization of the underground station.
Experience big city life at Münchner Freiheit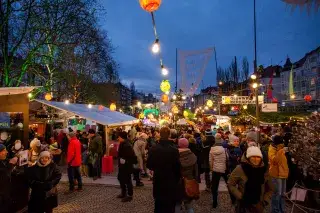 Münchner Freiheit is the northern end of the "Entertainment Mile" on Munich's Leopoldstrasse. The boulevard features a well-known strolling promenade with wide sidewalks. Innumerable bars, restaurants, and clubs attract many Munich residents and guests, especially on the weekends.
In the winter, the square at Münchner Freiheit is home to the Schwabing Christmas market, spreading a cozy flair with its small alleys and old wooden stalls.
What does "Münchner Freiheit" mean
It wasn't until 1947 that the square was given the name "Münchner Freiheit" (Munich's Freedom), in memory of the resistance group "Freiheitsaktion Bayern", which called for surrender to American troops and an armed uprising against the remaining Nazi units in April 1945.
The square is so popular, a German pop music group even named themselves after it. In front of a local café sits actor Helmut Fischer, who achieved major fame and popularity in his TV role as "Monaco Franze", as a bronze monument. "Monaco Franze" was a cult Bavarian television series in the 1980s.
M-WLAN - free Wi-Fi in Munich's squares
The free M-WLAN wi-fi service is available at multiple locations in Munich, allowing users to surf the Internet for free.
M-WLAN is a free service offered by the city together with Stadtwerke München as a technical partner. muenchen.de and M-net are acting as sponsors.