Ice skating in the middle of the Stachus square
Eiszauber on the Stachus: Party and tasty treats
Take your skates with you when you go shopping during the advent season: The Eiszauber (Ice Magic) on the Stachus runs in the winter, usually starting at the end of November. In addition to a great ice rink, it also offers delicacies and beautiful christmas lights. There's also a series of parties every night.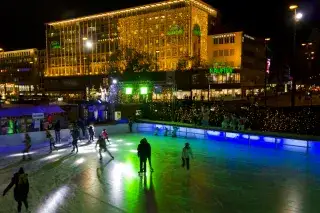 Why we love the Eiszauber on Karlsplatz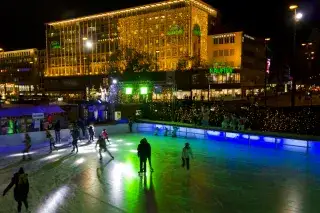 Ice skating is fun for everyone:  No matter if you're a professional or stepping into a pair of skates for the first time ever - everyone is welcome here. You don't even need your own skates; you can rent them on site. For those with very little experience, or who are pessimistic by nature, you can also rent helmets.
The largest mobile ice arena in the city: The arena in the middle of the Stachus measures 750 square meters, and to make sure you don't get in the way of any pirouetting, amateur ice ballerinas, admission is divided into time blocks costing different amounts.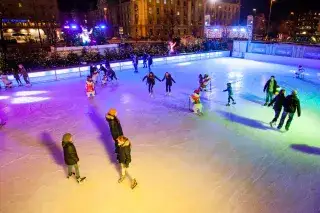 Even for people who don't like ice skating: Just watch a little bit. The wooden Panorama-Alm provides an excellent view of the skaters - while a mulled wine warms your hand or a tasty snack fills your stomach.
Party fun after your shopping:  Not only is there music, but also regular ice parties in the evenings. Variety is the spice of life - this also applies to the Eiszauber. Different specials start every day at 7:30 pm. We tell you what happens on what day below.
Tip: Ice Skating in the Prinzregentenstadion
If you can't get enough fun on the ice, you should visit the "Prinze" (Prinzregentenstr. 80). The ice stadium, with a 30 x 60-meter ice rink and grandstand for 450 spectators, offers not only ice skating to music and floodlights, but also has a connected sauna to relax afterwards...