Discover exhibits from two millennia at the Bavarian National Museum
Bavarian National Museum: Exhibitions, Events, Program
A visit to the Bavarian National Museum is a journey through European art and cultural history. Check out all there is to see in the impressive building near the river Isar.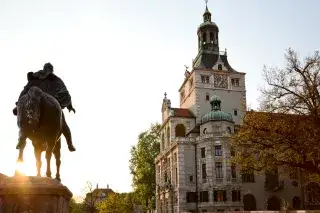 ah_fotobox / Fotolia.com
The Bavarian National Museum at a glance
You can marvel at exhibits from two millennia in the Bavarian National Museum. The core of the collection is formed by the royal art holdings of the Wittelsbach family - Bavaria's ruling dynasty for many centuries. Another flagship is the internationally renowned sculpture collection. It provides a first impression of the range of German sculpture from the 13th to the 19th century and is complemented by major works from other European schools.
The exhibits include regional and European paintings, sculptures, handicrafts, ivory and goldsmith works, tapestries, furniture, weapons and exquisite porcelain. There are guided tours, workshops and changing special exhibitions.
Museum history
The Bavarian National Museum is one of the great art and cultural history museums in Europe and dates back to its foundation by King Maximilian II in 1855. The building is not the original museum: a first building was opened on October 12th 1867 in Maximilianstrasse - today the State Museum of Ethnology. However, the Bavarian Parliament decided to build a new building in 1892.
The Munich architect Gabriel Seidl designed the new museum in the style of historicism. On September 29th 1900, the new Bavarian National Museum opened on Prinzregentenstrasse. The architecture alone is worth a visit for its mixture of Romanticism, Gothic, Baroque and Renaissance. The interior design of the halls is also impressive, as it is individually adapted to the works of art.
During the Second World War, the Bavarian National Museum was heavily damaged, so that the public was able to visit the first halls again as early as 1947. In 1978, a complete renovation was ordered.
Bavarian National Museum
Prinzregentenstr. 3
80538 München

Tel: +49892112401

This is a carousel with rotating cards. Use the previous and next buttons to navigate, and Enter to activate cards.