Beer Museum Munich: Beer steins, brewing art, beer hall
Beer and Oktoberfest Museum Munich: Museum and restaurant
Who invented the beer? What is the purity law? And why do the people of Munich celebrate their Oktoberfest? The Beer and Oktoberfest Museum answers these questions.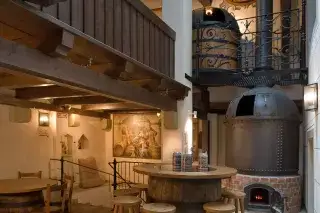 Bier- und Oktoberfestmuseum
The Beer and Oktoberfest Museum at a glance
In the Beer and Oktoberfest Museum you can expect interesting facts about the number 1 staple food of the people of Munich:
Valuable beer mugs and memorabilia from the once powerful beer barons
Technical achievements in the art of brewing beer
Where the famous "Maß" (i.e. the term for one liter of beer) comes from
How the beer mat got under the mug
In addition, a beer tavern awaits thirsty museum guests on the first floor
Munich Oktoberfest Museum: The history of the "Wiesn"
The Oktoberfest Museum, with its fascinating exhibits, is housed on a separate floor to pay proper tribute to the tradition that has lasted for over 200 years. What began as the wedding feast of King Ludwig I in 1810 developed into the largest public festival in the world and now attracts millions of people from all over the world to Munich.
Beer and Oktoberfest Museum Munich: Museum and restaurant
Sterneckerstr 24
80331 München
Tel: +498924231607

This is a carousel with rotating cards. Use the previous and next buttons to navigate, and Enter to activate cards.