Find all information about the Dachau Concentration Camp Memorial
Dachau Concentration Camp Memorial: Place of remembrance near Munich
On the grounds of the former concentration camp in Dachau, an exhibition recalls the suffering and deaths of the prisoners as well as the crimes of the Nazi era.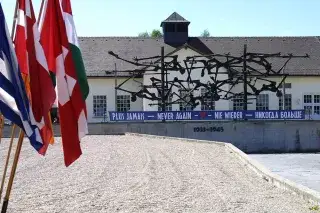 Stadt Dachau
The most important information at a glance
Location: approx. 29 kilometers northwest of Munich in Dachau
Museum category: Memorial 
Concept: The fate of the persecuted is documented from their incarceration, life, suffering and death in the camp until liberation.
Admission fees: Free of charge
Directions: S2 in the direction of Dachau Bahnhof. From there, take bus 726 in the direction of Dachau, Saubachsiedlung to the bus stop "Dachau, KZ-Gedenkstätte".
History of the Dachau concentration camp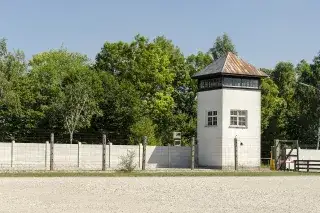 In 1933, the Dachau camp was commissioned by Heinrich Himmler as the first concentration camp in Germany. In the beginning, mainly political prisoners were imprisoned in Dachau Concentration Camp. With the introduction of the Nuremberg Laws on racial discrimination, new groups of prisoners were added, such as Jehovah's Witnesses, emigrants or homosexuals, and later also Sinti, Roma and prisoners of war.
Over 200,000 prisoners from 34 countries were held there by the Nazis in the years between 1933 and 1945. At least 41,500 people died. On April 29, 1945, the camp was liberated by the U.S. Army.
After the end of the war, the former camp grounds initially served as an Allied prison and a reception camp for homeless people. The memorial was established in 1965.
The central theme of the main exhibition: "The path of the prisoners"
The focus of the main exhibition in the former utility building is the fate of the prisoners. In six sections and 13 rooms, the "path of the prisoners" is outlined using reports, drawings and biographies, but also through the historical site itself: arrival at the concentration camp, life in the camp, death or liberation.
The permanent exhibitions also include the exhibition in the former camp prison, the barracks exhibition and the former crematorium, which can be visited. The memorial room is also located at the end of the exhibition.
On the grounds there are the Catholic Deathly Fright of Christ Chapel, the Protestant Church of Reconciliation and a Jewish memorial.
In addition to the permanent exhibitions, the Dachau Concentration Camp Memorial also regularly hosts special exhibitions.
Dachau Concentration Camp Memorial
Pater-Roth-Str. 2a
85221 Dachau

Tel: +498131669970
Fax: +4981312235

This is a carousel with rotating cards. Use the previous and next buttons to navigate, and Enter to activate cards.