Art hotspot at the English Garden with a Golden Bar
Haus der Kunst: Changing art exhibitions
It is one of the major international exhibition houses: The Haus der Kunst in Munich shows retrospectives of modern, contemporary artists and themed exhibitions.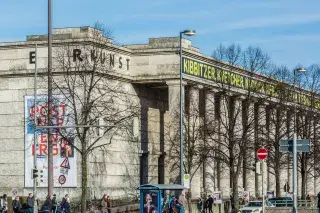 Michael Hofmann
What is there to see? Exhibition house with changing program
The Haus der Kunst does not have its own collection, it is purely an exhibition house. And that is its great strength: it thus has the possibility to give a lot of space to the changing programs.
Artists such as El Anatsui, Cyrill Lachauer or Michael Armitage, as well as the visitors to their exhibitions, are delighted with the huge, meter-high rooms in which the works of art are shown to their best advantage. In the rear part of the monumental building, the Golden Bar welcomes its guests, not only during museum hours.
History: The House of German Art 1933
The Haus der Kunst was opened in 1937 by Adolf Hitler as the "House of German Art". During the Nazi rule, the exhibitions showed propaganda and kitsch art, everything modern was banned. Anyone who wants to take a closer look at its history can visit the so-called Archiv Galerie. The Haus der Kunst faces up to its past in an exhibition in the entrance area, which is accessible free of charge.
Haus der Kunst EN
Prinzregentenstr. 1
80538 München

Tel: +498921127113
Fax: +498921127157

Barrier-free access
Barrier-free accessibility in the building
Barrierefreiheit - weitere Information
This is a carousel with rotating cards. Use the previous and next buttons to navigate, and Enter to activate cards.