Lenbachhaus and Kunstbau: World's Largest Collection of Franz Marc Art
Lenbachhaus in Munich: Information, exhibitions and entry fees
The Lenbachhaus is famous for the world's largest collection of art by the "Blaue Reiter" (Blue Rider) group, around Franz Marc. See what paintings you can discover here.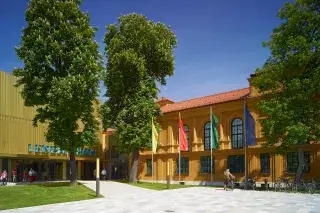 F. Holzherr, © Städt. Galerie im Lenbachhaus & Kunstbau
The "Blaue Reiter" and other collections
The Blaue Reiter is synonymous with a group of avant-garde artists at the beginning of the 20th century, founded by Wassily Kandinsky and Franz Marc. The exhibition of the same name at the Lenbachhaus includes works of art by great painters, including Franz Marc, Wassily Kandinsky, Paul Klee and Gabriele Münter.
The "19th Century" collection deals with the original focus of the Lenbachhaus.
The "Neue Sachlichkeit" collection, on the other hand, deals with art after the First World War. In demarcation to the preceding Expressionism, the artists of the 1920s and 1930s expressed their tendency of sober-realistic reproduction of reality.
In 1979, the acquisition of the work of the artist Joseph Beuys was understood as a provocation but also as a sign of the collection's departure into new areas.
In the collection "Art after 1945", new art movements as well as new media such as performance and video art, as well as conceptual art are taken up and shown on the basis of exemplary artists.
The history of the Lenbachhaus
The Lenbach Villa was built by painter Franz von Lenbach between 1887 and 1891. In 1924, Lenbach's widow sold both the building and parts of the inventory and artworks to the City of Munich. These established the first holdings of the Lenbachhaus art collection. In 2013 the villa was extended by a modern new building.
The building called Kunstbau is attached to the Städtische Galerie im Lenbachhaus. It was opened in 1994 and is characterized above all by its special spatiality. It is located on the mezzanine level of the Königsplatz subway station and its layout is based on that of the subway station. The unusual dimensions take into account the growing spatial demands of modern art.
Lenbachhaus EN
Luisenstr. 33
80333 München

Tel: +498923396933
Fax: +498923332003

This is a carousel with rotating cards. Use the previous and next buttons to navigate, and Enter to activate cards.