Everything you need to know about Munich - and more
The Munich Stadtmuseum at St.-Jakobs-Platz
Take an exciting trip through Munich's history at the Stadtmuseum (City Museum): What did Munich look like 300 years ago? What did the noble ladies wear? And how did National Socialism and World War II change the city? You will learn about it here.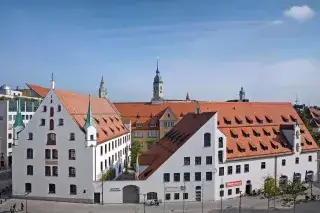 Münchner Stadtmuseum
The Munich Stadtmuseum at a glance
The Munich Stadtmuseum (Munich City Museum) at St.-Jakobs-Platz  shows everything you need to know about Munich. In addition to special exhibitions and cultural events, there are permanent exhibitions:
In the exhibition "Typically Munich!" more than 400 exhibits illustrate the history of the city of Munich.
The exhibition "National Socialism in Munich" recalls the city's National Socialist past.
In addition, there are about 30,000 portraits in the possession of the Stadtmuseum.
The history of Munich Stadtmuseum
The Munich Stadtmuseum was founded in 1888 on the initiative of the city archivist Ernst von Destouches. It was initially designed as a museum of local history. In addition to the originally mainly graphic holdings, other objects were added over the years: furniture, fashion and everyday objects. Thus the museum grew more and more and today it is the largest municipal museum in the whole of Germany. Some of the rooms in which the Munich City Museum is located are centuries-old buildings, such as the former armory, which was built in 1500.

The Film Museum has been part of the Munich Stadtmuseum since 1963. A wide range of films, from early black-and-white classics to modern independent films and documentaries are archived here, restored and made accessible to the public in various film series. The Film Museum shows a changing program of films every day, sometimes even with panel discussions and a supporting program.
Munich Stadtmuseum
St.-Jakobs-Platz 1
80331 München

Tel: +498923322370

Barrier-free access
Barrier-free accessibility in the building
Barrierefreiheit - weitere Information
This is a carousel with rotating cards. Use the previous and next buttons to navigate, and Enter to activate cards.