Natural history as an experience
Museum Mensch und Natur: Natural history museum in Munich
How did our earth come into existence? What are genes exactly? The Museum Mensch und Natur (Man and Nature) gives understandable answers to complex questions.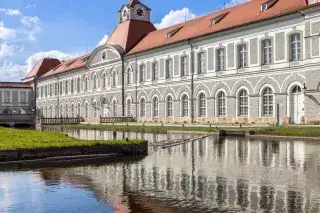 shutterstock_728330587
In cooperation with the cultural department and the museums
This article about Munich's museums is sponsored by the Cultural Department of the City of Munich and was conceived in cooperation with the State Agency for Non-State Museums in Bavaria. The content has been coordinated between the participating museums and muenchen.de, the official city portal.
Why the Museum Mensch und Natur is worth a visit:
In the Museum Mensch und Natur natural history becomes a genuine experience for all family members – with free admission for children and teens up to the age of 18!
What to see? The museum showcases an educational exhibition which offers insights on different aspects of natural history. All topics are explained very clearly and sometimes even in a funny way. Huge boards and dioramas accompany you on your journey through the history of the earth, quiz games provide knowledge at the push of a button and many interactive objects invite the visitors (both young and old) to become active themselves!
Although there is much to discover, you should bear in mind that the museum is in transition to the modernized version Biotopia Naturkundemuseum Bayern. Therefore, English translations within the exhibition are currently only available in some departments.
What's special? This institution for science welcomes everyone to join in: guided tours, workshops or temporary special exhibitions, there really is something for everyone. Have you ever wondered what an earthquakes feels like? The earthquake simulator at the Museum Mensch und Natur imitates six different earthquakes in two dimensions (can only be booked in combination with a guided tour).
Museum Mensch und Natur: The most important information at a glance
Location: in the north wing of Nymphenburg Palace
Museum category: natural science
Recommended duration of stay: 2-3 hours for a laid-back visit with the whole family – don't miss out to take a walk in the park of Nymphenburg Palace afterwards
Children's program: free admission, workshops, children's birthday parties, individual group tours
Directions: Tram 17, bus 51 or bus 151 to Nymphenburg Palace
Parking: parking spaces are available at the castle
A lively learning experience: Discover these highlights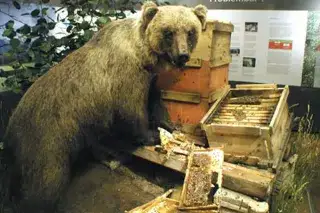 The exhibition space is divided into nine thematical areas that give visitors of all ages exciting insights into the history of the earth and life. Many impressive replicas, models and natural objects make the exhibition fascinating and exciting. In addition, audiovisual programs provide an interactive experience. Here are some highlights you shouldn't miss:
Nerves and Brain: The brain controls our body, but how does it work exactly? On a brain model you can illuminate the human auditory, visual and language centers by pushing the corresponding button.
Gene Worlds: As this is the stuff our genes are made of a giant DNA molecule is the center of this exhibition. Here you can learn, how the scientists managed to decode it.
Playful Natural History: This exhibition area is the highlight of the museum. You can answer questions by touching the right buttons. Guessed correctly? As a reward, little doors open and animals start racing.
Colorful World of Minerals: Rose quartz, amethysts, citrines: this exhibition area glitters and sparkles. A special eye-catcher is a 760 kg rock crystal from Arkansas. But did you know, how the crystalline structure scientifically works?
JJ1 – alias Bruno: This section is dedicated to "Bruno". In 2006 the brown bear was the first free-living bear in over 170 years to roam through Germany again.
Earthquake simulator: Here you can experience what an earthquake feels like at different magnitudes. In approximately 20 minutes, the earthquake simulator replicates six different earthquakes from the past (can only be booked in combination with a guided tour).
Guided tours and lectures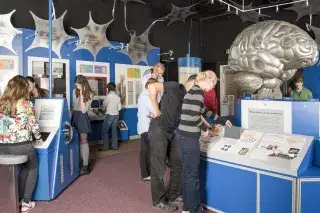 The museum offers overview tours that can be booked online. On Fridays, there are also special familiy tours free of charge. More information (in German) >>
Children's program: tours, workshops, birthday parties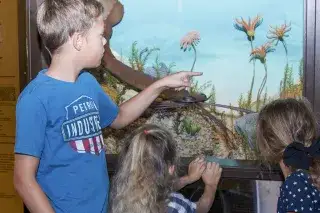 In addition to free admission, the "Playful Natural History" department and the Friday tours, the museum offers some special programs for children and young people:
There are regular workshops for children during the school holidays.
It is possible to celebrate children's birthday parties at the museum.
Individual group tours with experienced educators can be booked for pre-school and school classes.
Museumsshop and CaféBar Limulus
The museum shop sells minerals, fossils, models of dinosaurs and animals, as well as books, brochures and postcards.
Enjoy coffee, cakes or fresh snacks (including special offers for kids) at the museum café Limulus. The CaféBar also hosts temporary art exhibitions and organizes joint events and lectures with the museum.
Tickets: Free admission until 18
Adults: 3,50 Euro (discounted: 2,50 Euro)
Children and teens aged up to 18 years: free
Sunday admission: 1 Euro
Digital offers
Remodeling and expansion: The Museum Mensch und Natur becomes Biotopia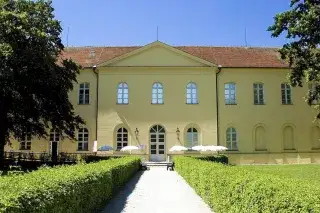 Since its opening in 1990, the Museum Mensch und Natur has been one of Munich's most popular and well-attended museums. Due to the limited space and infrastructural restrictions, the museum will comprehensively be expanded and renovated. With a completely new concept and under the new name Biotopia-Naturkundemuseum Bayern it will be an innovative museum and forum for life sciences and the environment.
Accessibility and offers for individuals with disabilities
The access to the museum and all exhibition areas is barrier-free.
Assistant dogs may be taken along and wheelchairs can be borrowed at the ticket office.

Audio tours and guided tours for visually impaired or blind people are available.

There is an accessible toilet on the ground floor.
Free entry for any accompanying person, who is identified in the disability card.

Two parking spaces for visitors with disabilities are available in front of the museum. Two additional ones are nearby.
History of the museum
The Museum Mensch und Natur was opened in 1990 as an exhibition forum of the Bavarian State Natural Science Collections (SNSB).
Before that, Munich didn't have a museum for natural history since 1944. The old exhibition rooms in the Wilhelminum on Neuhauser Straße had mostly been destroyed in World War II.
Museum Mensch und Natur EN
Schloss Nymphenburg
80638 München

Tel: +49891795890

This is a carousel with rotating cards. Use the previous and next buttons to navigate, and Enter to activate cards.
Aktuelle Veranstaltungen
Freizeit, Ausstellungen
-
Museum Mensch und Natur
Freizeit, Ausstellungen
-
Museum Mensch und Natur