Design, art, architecture, graphics: Four museums under one roof
Pinakothek der Moderne: Exhibitions of art, architecture and design
The Pinakothek der Moderne combines four independent museums covering more than 12,000 square meters. See which artworks and exhibitions you can discover in such massive space.
KEIN CREDIT
Why is a visit to the Pinakothek der Moderne worthwhile?
You really want to know what makes modern art so special? At the Pinakothek der Moderne you can satisfy your artistic curiosity.
What's on offer? Exhibitions, guided tours, art workshops and a free children's program with a "scavenger hunt".
What's special? Design, art, architecture, graphics: In the Pinakothek der Moderne you will experience four different museums in one building.
The Pinakothek der Moderne at a glance
 The Pinakothek der Moderne is one of Munich's biggest attractions and one of the most famous exhibition halls in the world. Here you can discover four different areas of art in a unique constellation:
The Sammlung Moderne Kunst (Modern Art Collection) shows contemporary art of all directions: From Expressionism and Cubism to Pop Art and Minimal Art.
The Neue Sammlung (New Collection) is considered the first design museum in the world. Here you can learn exciting things about car design, computer design, and much more.
The Architekturmuseum (Architecture Museum) contains drawings and plans by more than 700 architects.
In the Graphik-Sammlung (Graphic Collection) you can admire over 350,000 prints and over 45,000 drawings.
Sammlung Moderne Kunst
In the art collection of the Pinakothek der Moderne, all directions of classical modernism and contemporary art are represented, from Expressionism, Cubism, New Objectivity and Bauhaus to Surrealism and Abstract Expressionism to Pop Art and Minimal Art.
The museum showcases the Who's Who from the most productive century in art history. To list all the artists exhibited here would be almost impossible.
In 1950, the foundation of the Staatsgalerie moderner Kunst consisted of a total of only seven works of art. Since then, the collection of modern painting and sculpture has grown through acquisitions and, above all, through permanent loans and donations from important private collections. In addition to classical modern and contemporary art, the collection today also includes significant works from the fields of new media, photography and video.
Design Museum: The Neue Sammlung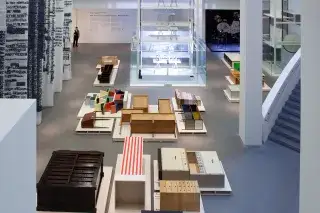 The Neue Sammlung is considered the world's first design museum. It was institutionalized as a museum in 1925, when the term did not even exist. Down a monumental entrance, past a house-high shelf of design objects, visitors reach the permanent exhibition in the basement.
Passing through automobile and computer design, with a Porsche, a Citroen DS and an NSU RO 80, as well as early computer models, visitors enter the spacious Design History section. There, chairs, furniture, jewelry and all kinds of everyday objects up to shoes and cell phones from a stock of around 80,000 objects are staged in a varied way.
Architekturmuseum
The historical memory of the Architekturmuseum (Museum of Architecture) includes a stock of about 500,000 drawings and plans by more than 700 architects. It also guards over 100,000 original photographs and a large number of models.
These are constantly incorporated into the wide-ranging program of changing exhibitions on historical and current positions in architecture. The main focus of the collection is German architecture from the 19th to the 21st century.
Staatliche Graphische Sammlung
Over 350,000 prints and over 45,000 drawings: It is not for nothing that the Staatliche Graphische Sammlung is one of the most important collections of graphic art in the world.
Its holdings range from the 15th century to the modern era. It is based in Munich's Haus der Kulturinstitute on Königsplatz and has had its own exhibition rooms in the Pinakothek der Moderne since 2002.
Admission prices, locations, programs and more!
Admission prices:
 Admission price : 10 euros
Reduced : 7 euros
Sunday admission : 1 euro
Audio guide : 4.50 euros
(Separate prices may apply to special exhibitions. They are usually not included in the Sunday admission).
All state museums charge a reduced admission price of only 1 euro on Sundays . This also applies to the Pinakothek der Moderne. On Sundays, it can therefore get very crowded, especially in the afternoon. On weekdays, however, you have the rooms almost entirely to yourself.
Children's program : Interactive discovery tour as a scavenger hunt through the museum, free workshops.
Directions : City bus 100 and tram 27/28 to Pinakotheken "or U3 / U4 / U5 / U6 to Odeonsplatz.
Parking : The museum's own car park is available for people with a disabled parking permit.
Pinakothek der Moderne in Munich
Barer Str. 40
München

Tel: +498923805360

Accessibility - Direction
This is a carousel with rotating cards. Use the previous and next buttons to navigate, and Enter to activate cards.