Design, art, architecture, graphics: Four museums under one roof
Pinakothek der Moderne: Exhibitions of art, architecture and design
The Pinakothek der Moderne combines four independent museums covering more than 12,000 square meters. See which artworks and exhibitions you can discover in such massive space.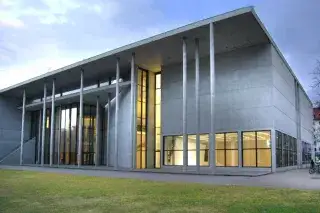 KEIN CREDIT
Why is a visit to the Pinakothek der Moderne worthwhile?
You really want to know what makes modern art so special? At the Pinakothek der Moderne you can satisfy your artistic curiosity.
What's on offer? Exhibitions, guided tours, art workshops and a free children's program with a "scavenger hunt".
What's special? Design, art, architecture, graphics: In the Pinakothek der Moderne you will experience four different museums in one building.
The Pinakothek der Moderne at a glance
 The Pinakothek der Moderne is one of Munich's biggest attractions and one of the most famous exhibition halls in the world. Here you can discover four different areas of art in a unique constellation:
The Sammlung Moderne Kunst (Modern Art Collection) shows contemporary art of all directions: From Expressionism and Cubism to Pop Art and Minimal Art.
The Neue Sammlung (New Collection) is considered the first design museum in the world. Here you can learn exciting things about car design, computer design, and much more.
The Architekturmuseum (Architecture Museum) contains drawings and plans by more than 700 architects.
In the Graphik-Sammlung (Graphic Collection) you can admire over 350,000 prints and over 45,000 drawings.
Pinakothek der Moderne in Munich
Barer Str. 40
München

Tel: +498923805360

This is a carousel with rotating cards. Use the previous and next buttons to navigate, and Enter to activate cards.