Museum in the house and studio of the painter Franz von Stuck
The Villa Stuck: Art Museum in Haidhausen
The Villa Stuck is not only one of Munich's most renowned museums, but also a complete work of art itself. It shows changing exhibitions in richly decorated rooms, which blend in with the ornate décor of the house.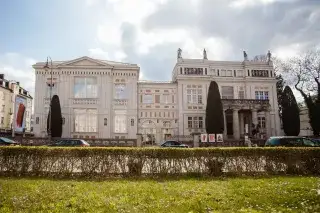 muenchen.de / Mónica Garduño
Why the Museum Villa Stuck is a must-visit
The former home and studio of Franz von Stuck, a very famous Munich artist of his time, has been open to visitors since 1992. The Art Nouveau villa houses a museum that is definitely worth a visit. Many works by the master himself can be discovered in the historic rooms of the Villa Stuck. In addition to his works, other 19th century art objects and many contemporary artists from his collection are also on display. In addition, the Villa Stuck hosts temporary exhibitions of modern and contemporary art.
The history of the Art Nouveau villa
The Villa Stuck was built in 1897/98 according to designs by Franz von Stuck (1863-1928) himself. The then 34-year-old painter, graphic artist and sculptor had planned his future artist's paradise in every detail. From the shell to the details for the interior decoration - Stuck developed everything himself, including the enchanting garden with its impressive figures.
The three-story villa building presents itself in a no-frills Art Nouveau chic. Since 1992, the villa has served as a museum for the City of Munich. The premises were extensively restored and expanded.
Villa Stuck Museum Munich
Prinzregentenstr. 60
81675 München
Tel: +49894555510

Barrier-free access
Barrier-free accessibility in the building
Accessibility - further information
This is a carousel with rotating cards. Use the previous and next buttons to navigate, and Enter to activate cards.