Munich's pedestrian zone: Kaufingerstraße and Neuhauser Straße
Neuhauser Straße and Kaufingerstraße: Pedestrian zone in Munich
A diverse selection of attractions lure tourists and locals into downtown Munich. Kaufingerstraße and Neuhauser Straße are located between Marienplatz and Karlsplatz (Stachus).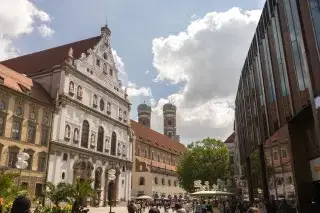 Lukas Fleischmann
Pedestrian zone between Marienplatz and Stachus: Info
In Munich's pedestrian zone, there are many small shops, traditional stores and large chains.
Of course, you can also find some of the city's most important sights here, such as the Frauenkirche and the New City Hall.
If you are hungry in between, it is worth visiting the city center restaurants, which are located in and around Kaufingerstraße and Neuhauser Straße.
Popular area in Munich's city center
Munich's central pedestrian zone and the most important shopping area consists of two large streets, the Kaufingerstraße and the Neuhauser Straße, which merge into each other. The attractive fruit and vegetable stands and the creative street artists bring the boulevard to life, which attracts locals and tourists to go shopping.
Traditional department stores, drugstores, electrical, trend and souvenir shops are found between the most popular attractions of the city, such as Marienplatz, the Frauenkirche and Karlsplatz (Stachus). Small covered passages make shopping a pleasure even on a rainy day.
Traditional street with history and attractions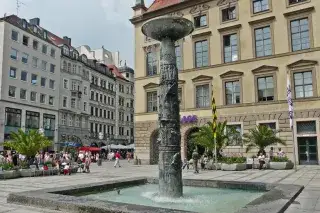 The Kaufingerstraße was first mentioned in 1316 as "Chufringerstraße", which makes its name on of the oldest street names in Munich next to the Rindermarkt.
During World War Two, it was extensively destroyed, restored and finally renewed with post-modern architecture at the turn of the millennium.
Thanks to the construction of the S-Bahn service for the Olympic Games in 1972, the inner city today is free of cars.
You can pleasantly combine culture and shopping in this historic area. Starting at the Marienplatz, one can admire the Old Town Hall (Altes Rathaus), reach Munich's famous Frauenkirche through Kaufingerstraße and Liebfrauenstraße and stroll along Neuhauser Straße to the large medieval city gates at Karlsplatz (Stachus). Take a seat and relax at the large fountain at Stachus and continue your shopping trip at the expansive Stachus underground passages.
Neuhauser Straße and Kaufingerstraße: Pedestrian zone in Munich
Kaufingerstraße 1
80331 München