Munich's city history up close: Info and tips on the Old Court
The Old Court (Alter Hof): Sight in the city center
The Old Court (Alter Hof) is located in the middle of Munich's old town. As the first imperial residence of the Wittelsbacher royal family, it is an important sight in the center.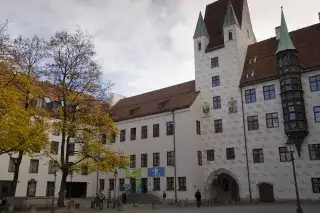 Katy Spichal
The most important information about the Old Court
As the

 

first imperial residence of the Wittelsbacher dynasty

 

from the 13th century onwards, it is an important highlight of the medieval history of the city
Despite some rebuilding and reconstruction after the Second World War, the

 

medieval architecture

 

has been preserved to this day
One of the most exciting legends about Munich revolves around the

 

Monkey Tower
On site or directly next door some

 

stores and gastronomy

 

are waiting for visitors
In the basement of the Old Court there is a

 

permanent multimedia exhibition

 

about the historical building to discover
Architecture: Medieval ground plans despite war destruction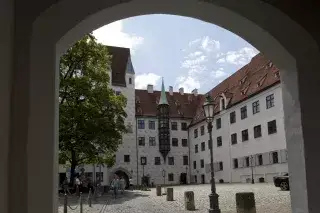 Much has happened since the beginnings of the courtyard in the Middle Ages until today - but the Old Court has never lost its original charm. Of the original five components of the building complex, only two have been preserved in a renovated form.
The others were demolished and rebuilt after the destruction of the Second World War. However, the faithfulness of these reconstructions to the original has even won awards.
The Monkey Tower - the most important sight in the Old Court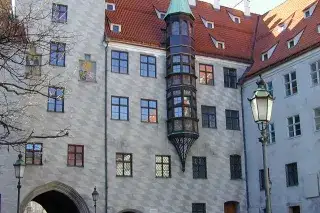 According to legend, Duke Ludwig II had a tame monkey that was allowed to run around freely in the residence. This monkey is said to have kidnapped the little heir to the throne, Ludwig the Bavarian, from his cradle one day.

A chase by the entire court staff finally drove the monkey with the child in its arms over a wooden bay window onto the roof. Below, the court staff trembled; above, the monkey sat with the baby. After a while, however, the animal calmed down and carefully climbed down to put the baby back in the cradle. Since then, the gothic wooden bay window on the castle floor has also borne the name Monkey Tower.
The Old Court (Alter Hof): Sight in the city center
Alter Hof 1
80331 München
Tel: +498921014050