Tea pavilion, Chinese flair: This is the Pagodenburg in Nymphenburg
Pagodenburg in Nympenburg Palace Park Munich: Tips and more information
Elector Max Emanuel had the Pagodenburg built as a two-story tea pavilion in Nymphenburg Palace Park on the small lake. What makes it worth seeing for tourists: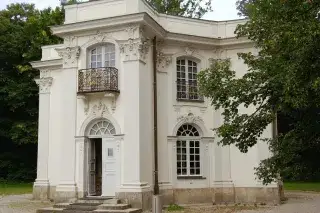 inavanhateren / Shutterstock.com
Architecture and furnishings
The two-story, octagonal building was designed by Elector Max Emanuel shortly after the construction of Nymphenburg Palace and completed by Joseph Effner around 1719. The first floor consists of just one room with oriental-looking decor in blue and white, a playful ceiling painting and colorful Dutch tiles on the walls.
The upper floor is in Far Eastern style with exotic decorations on black lacquer. The small, refined rooms make the Pagodenburg a highlight of 18th century European "Chinese fashion". Along with three other park castles, the small castle is part of the ensemble of the Nymphenburg Palace Park.
Location and accessibility: Pagodenburg
Location: The Pagodenburg is located in the palace grounds of Schloss Nymphenburg north of the main canal in the Neuhausen-Nymphenburg district. 
Public Transportation: Streetcar line 17 runs from the city center and main train station to the Pagodenburg. The stop "Schloss Nymphenburg" is about 500 meters from the castle building. If you want to make a short walk of about 2 km, you can also get off the S-Bahn at the stop "Laim".
Parking spaces: Parking spaces are available directly at the castle in the Schlossrondell. You can usually find a parking space there, but on Sundays and holidays it can be tight.
Tickets: The small castle can be visited with the overall "Nymphenburg" ticket or with the "Parkburgen" ticket. Tickets must be purchased at the ticket office of the castle.
Pagodenburg in Nympenburg Palace Park Munich: Tips and more information
Schloss Nymphenburg 1
80638 München
Tel: +4989179080

This is a carousel with rotating cards. Use the previous and next buttons to navigate, and Enter to activate cards.