Discover exotic plants from all over the world in Munich
The Botanical Garden in Munich invites you to a quick getaway
The Botanical Garden has over 19,000 plant species and subspecies. Blooming flower beds, greenhouses and a lovely café awaits you.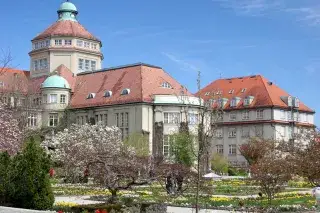 mde
What's on offer and when is the best time to visit?
The Botanical Garden is open all year round. In winter, admission to the garden's outdoor area is free.
You can discover a variety of plants for which you would normally have to travel the world for weeks: Over 19,000 species and subspecies are cultivated here.
Great display greenhouses with 4,500 square meters of space await you, imitating the flora of humid tropical areas, hot deserts and cool tropical mountain forests.
Browse through 2,000 species of orchids, look at whimsical aquatic plants in 15 aquariums, or feel like you're on vacation in the Tropical House.
Breathe in the jungle air in the palm house, and the large cactus house with its wittily shaped spherical and columnar cacti and agaves is open all year round.
In the outdoor areas you can observe blooming landscapes all year round: The rose garden consists of old rose varieties and new cultivars, the Alpinum, a recreation of a hilly alpine landscape overlooking the large pond and the arboretum is a pretty tree garden with deciduous trees and conifers from all over the world.
When it comes to relaxation, there's an inviting café with large windows and a terrace.
History
There's been a Botanical Garden in Munich since 1809. First it was located between Stachus and the Hauptbahnhof (Central Train Station). Today, this park bears the name of "Alter Botanischer Garten" (Old Botanical Garden). However, it soon became too cramped in the city center and the air pollution became too strong. A new green lung needed to be created over a larger space.
The new Botanical Garden, considerably larger at 21.20 hectares, was laid out in Nymphenburg in 1914. The two gardens, the State Botanical Collection located on the same site and the Institute of Systematic Botany of the Ludwig Maximilian University, have been under joint management since 1966. The Botanical Garden is also an important training center for gardening apprentices and students.
The Botanical Garden
Menzinger Str. 65
80638 München

Tel: +498917861321
Fax: +498917861324

This is a carousel with rotating cards. Use the previous and next buttons to navigate, and Enter to activate cards.