Maximiliansanlagen: Green park with Angel of Peace
Maximiliansanlagen - a park next to the river Isar
The Maximiliansanlagen (Maximilian Park) offers nature lovers a secluded spot above the Isar on around 30 hectares. The Friedensengel (Angel of Peace) towers high in their midst.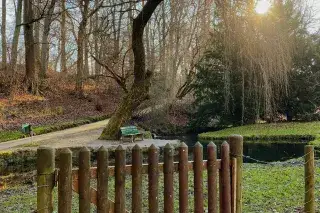 Michael Hofmann
What makes the Maximiliansanlagen so beautiful
The Maximiliansanlagen are located directly on the Isar River and stretch for a length of about two kilometers.
The park is a paradise for walkers, joggers and those seeking relaxation.
Near the Maximilianeum (Bavarian Parliament) and the Friedensengel (Angel of Peace), you can spend relaxing hours and listen to the impressive soundscape - after all, the Isar roars mightily at the nearby barrages
Maximiliansanlagen: Relaxed stroll along the Isar river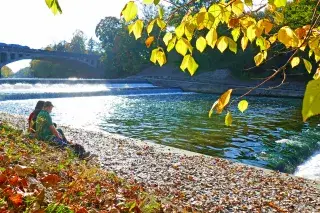 The borders of the Maximiliansanlagen are the Max-Joseph-Brücke (bridge) in the south and the Ludwigsbrücke to the north. The groups of trees are planted in such a way that a view of the old town is always possible. The impressive column of the Friedensengel (Angel of Peace) towers in the center of the park - the landmark has been looking down on the people of Munich since 1899.
On the site of the park, there once used to be a sheep meadow. Between 1856 and 1861, the Maximiliansanlagen were given their current form based on designs by architect Peter Josef Lenné and by Carl von Effner.