Visit the lovely palace park north of Munich
Schleißheim Court Garden: A baroque palace park
Schleißheim Palace is located north of Munich in the small town of Oberschleißheim. Its baroque Court Garden (Hofgarten) is worth a visit.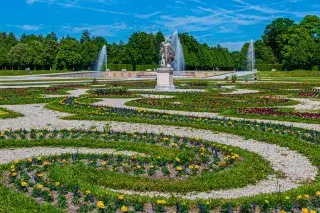 Michael Hofmann
Remarkable: The garden is almost unchanged since the 17th century
The palace park designed by Henrico Zuccalli is a prime example of 17th century garden art, as it is one of the few baroque gardens that have remained unchanged to this day. It was enlarged by Dominique Girard in the early 18th century. A typical element is the canal that divides the garden - which was finished in 1781.
In the middle of the park is also the small Lustheim Palace, which exhibits one of the largest collections of Meissen porcelain.
The entrance to the Court Garden is free.