Own ticket needed for bike in subway and suburban train
Taking your Bike on public transport in Munich: These are the rules
Except at peak times, you can take your bike on the subway, suburban trains or designated regional trains in Munich. But - the bike also needs a ticket!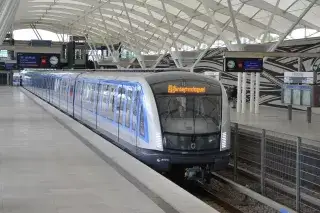 Bicycles on public transport
You are permitted to take a bicycle on subway and suburban trains as well as on designated regional trains. Bicycles are generally not allowed on all buses and streetcars.

During rush hours Monday - Friday 6 - 9 am and from 4 - 6 pm, bicycles are also not allowed on on subway and suburban trains. During school vacations, the curfew applies only in the morning.
Tandem transport is only possible in suburban trains and designated regional trains.
The ticket for the bike
Different conditions of carriage apply for different types of bicycles. The MVV website provides an overview.
Exemption for folding bikes
Folded and collapsible bicycles are considered luggage and can also be taken on subway and S-Bahn trains during curfew periods.
Please note that the capacity of the means of transport must permit this and that no passengers are restricted as a result. The decision is made by the operating personnel on site. If space permits, folding bikes may also be taken on buses and streetcars.