Munich's international commercial airport (MUC)
Munich Airport Franz Josef Strauß
The airport, which replaced the Munich-Riem site and began operating in 1992, has received many awards for its architecture. Mid-2003, the opening of Terminal 2 with its daring design was an important step towards further extraordinary growth.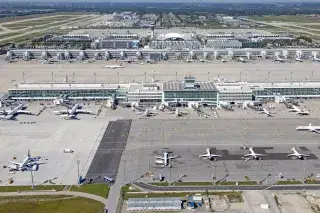 Michael Fritz
Munich Airport at a glance
Location: Franz Josef Strauß Airport (MUC) is located about 28 kilometers northeast of Munich in the Erdinger Moos just outside the town of Freising.
Terminals: There are two terminals, a satellite terminal and two runways from which passengers can take off to destinations all over the world.
Facilities: The MAC Forum has offices, stores, restaurants and space for outdoor events right at the airport. The airport also includes a visitor park with a viewing hill, children's playground and miniature golf course.
Awards: The airport regularly lands in the top ten in the annual "World Airport Awards" - in 2018 it was ranked 6th, making Munich Airport the best airport in Europe.
Getting there: The airport can be reached from Munich city center via the S-Bahn lines S1 and S8. In addition, Lufthansa airport buses run from the main train station and the North Cemetery. 14 parking garages offer almost 36,000 parking spaces.
Info about the history and how to get there
Munich Airport began operations in May 1992, replacing Munich's previous commercial airport in Riem. This was preceded by decades of discussions about the location and extensive construction work. Since its opening, the airport has been successively expanded and developed.
Getting to the airport
S-Bahn: From Munich city center, the S-Bahn lines S1 and S8 offer a direct connection to the airport. The journey takes about 40 minutes from the main train station.
Airport bus: The Lufthansa express bus leaves every 20 minutes from the Hauptbahnhof and Schwabing/Nordfriedhof stops to the airport.
Rail: Since 2018, regional trains from eastern Bavaria have also been stopping at Munich Airport: The Airport Express from Regensburg makes stops along the way in Landshut and Freising, among other places.
Car: The fastest way to reach the airport from Munich is via its own exit on the A92 autobahn.