Driving with a taxi in Munich: Rates, phone number, app
Taxis or cabs in Munich: Fares and prices, phone numbers, stand locations
All info about taxis in Munich: The most individual means of transport for those in a hurry or carrying a lot of luggage. Since September 2023, it has also been possible to agree fixed prices for taxi rides in Munich.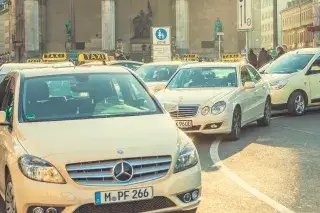 Fixed prices for taxi rides now possible in Munich
Since September 1, 2023, passengers in Munich can - if they wish - agree on a fixed fare for their journey. The advantage for the passenger is that if there are traffic jams or detours during a trip, the previously agreed fixed price still applies. This arrangement is so far unique in Germany and was adopted by the Munich City Council in July 2023: The aim is to ensure that cab providers can also offer reliable prices.
The choice between fixed price and taximeter price is only possible when booking in advance by phone or app.
 Anyone who boards a cab directly at a stand or stops on the street cannot charge a fixed price.
The city of Munich continues to set prices within the so-called "fare corridor" and monitors them to prevent profiteering.
Call a taxi in Munich: Phone, App, Stands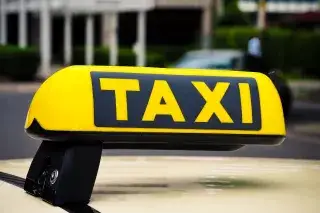 There are three ways to organize a taxi in Munich: Either you hail a passing taxi by hand signal, if the yellow "Taxi" sign on the roof is lit, the taxi is usually available.
In addition, especially in the city center, for example at the main train station or Odeonsplatz, there are dedicated taxi stands where several taxis are parked and where you can simply get in.
Or you can call a cab by phone or app, which will then pick you up at the desired location - depending on the location, there is a corresponding journey fee.
Taxi center in Munich: Number and contact
Taxi-München eG
Phone: 089-21 610 or 089-19 410
E-Mail: info@taxi-muenchen.de
IsarFunk Taxizentrale GmbH & Co. KG
Phone: 089-450 540
E-Mail: info@isarfunk.de
The two taxi centers are usually manned around the clock.
Taxi fares: What does a taxi cost in Munich?
The taxi rates in Munich are precisely regulated in the taxi rate regulations. They continue to apply for spontaneous trips without advance booking via telephone or app.
There is a minimum fare for all trips, and the total cost of the trip is based on the distance traveled. There are also precisely defined rates for idle time, i.e. when the taxi waits while you do something yourself.
By the way, Munich has the highest taxi density in Germany, with 2.5 taxis per 1,000 inhabitants.