Driving with a cab/taxi in Munich: Rates, phone number, app
Taxis/Cabs in Munich: Vendors, prices, phone number, stand locations
The most individual means of transport for those in a hurry or carrying a lot of luggage. See all information on getting cabs in Munich.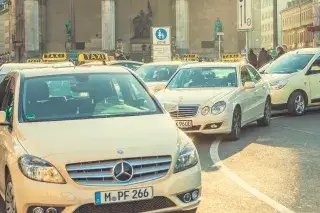 New cab fares since June 1, 2022
The Munich City Council has decided to update the cab tariff regulations, which came into force on June 1, 2022. This allows the KVR to adjust cab rates and make them more flexible. A new feature is a transparent range tariff at a fixed price for trips of up to 5, up to 10 or up to 45 kilometers. A trip from Munich Airport to the Bavaria Film City, for example, will then cost exactly 115 euros.
Call a cab in Munich: Phone, App, Stands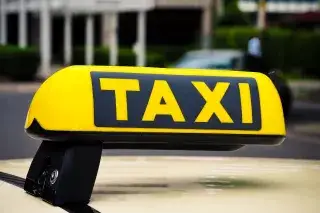 There are three ways to organize a cab in Munich: Either you hail a passing cab by hand signal, if the yellow "Taxi" sign on the roof is lit, the cab is usually available.
In addition, especially in the city center, for example at the main train station or Odeonsplatz, there are dedicated cab stands where several cabs are parked and where you can simply get in.
Or you can call a cab by phone or app, which will then pick you up at the desired location - depending on the location, there is a corresponding journey fee.
Cab center in Munich: Number and contact
Taxi-München eG
Phone: 089-21 610 or 089-19 410
E-Mail: info@taxi-muenchen.de
IsarFunk Taxizentrale GmbH & Co. KG
Phone: 089-450 540
E-Mail: info@isarfunk.de
The two cab centers are usually manned around the clock.
Cab fares: What does a cab cost in Munich?
Cab fares in Munich are precisely regulated: There is a minimum fare, and the total cost of the trip is then based on the distance traveled. There are also precisely defined rates for idle time, i.e. when the cab waits while you do something.
By the way, Munich has the highest cab density in Germany, with 2.5 cabs per 1,000 inhabitants.