7 tips for free summer parties in Munich
Summer festivals and street parties in Munich: Concerts, parties, folk festivals
In Munich, colorful festivals take place in the summer, and you should definitely stop by. We have tips for free summer festivals that take place every year.
Auer Dult at the Mariahilfplatz
What's going on: Beautiful Munich tradition! For many locals, the city is unimaginable without the Auer Dult. And rightly so: where else can you find this microcosm of merchants loudly advertising their wares, traditional rides and hearty food? And all this in such a beautiful place, overlooked by the Mariahilfkirche?
Who you meet: Munich natives, a few tourists, but also young couples and families in search of kitchenware or iconic antique decorations.
How to get there: Tram 18, buses 52 and 62 and U1/2 (subway stations Fraunhoferstraße or Kolumbusplatz).
Theatron Music Summer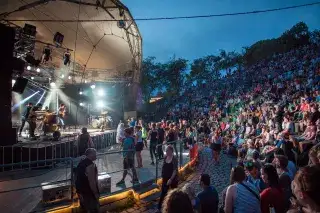 What's going on: concerts, concerts, concerts! The Theatron Music Summer brings established bands and up-and-coming acts to one of the city's most beautiful stages. Stylistically, there's pretty much everything from rock to world music to gypsy jazz. For maximum musical enjoyment, all you need are open ears. 
Who you meet: music fans, of course! The type depends on the band performing.
How to get there: Take the U3 to Olympiapark and then walk the rest of the way to the stage at Olympiasee. (Hans-Jochen-Vogel-Platz)
impark summer festival in the olympic park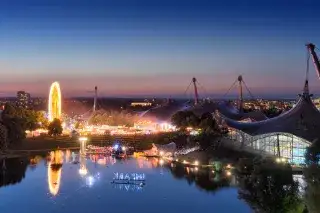 What's going on: A summer festival for everyone. The impark oozes summer vibes: rides, booths and a beach bar - what more could you want? The ferris wheel is a highlight, but the wakeboarders on the neighboring Olympic Lake are also an eye-catcher. And there are great concerts right next door at the Theatron.
Who you meet: families with children, strollers and friends of a relaxed Volksfest atmosphere. In the evenings, there are also party people out and about.
How to get there: Take the U3 to Olympiapark and then walk a few minutes - just follow the crowd.
Harras-Fest
What's going on: The small district festival Western of the city center has been held regularly since 2013. There is always a cultural program, hands-on activities, a Punch and Judy show for the little ones and a morning pint - there should be something for everyone here.
Who you meet: Families from Sendling and all over Munich celebrate together in a relaxed atmosphere.
How to get there: The easiest way is to take the subway: Harras is its own station on the U6 line.
free & easy Festival at the Backstage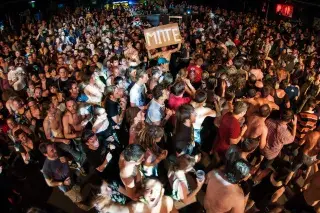 What's going on: A festival that combines concerts, parties, cabaret and films - and offers it all for free. The free & easy is a must for anyone who is not fundamentally averse to alternative music!
Who you meet: Since many bands are on the harder side, the headbanger percentage is certainly noteworthy. In general, the audience is young and party-loving.
How to get there: Take the S-Bahn to the Hirschgarten stop, from there it's a few minutes walk to Backstage. Alternatively, take bus 152 to Hirschgarten or Wilhelm-Hale-Straße, streetcar 16/17 to Steubenplatz or streetcar 18/19 to Lautensackstraße.
Angertorstraßenfest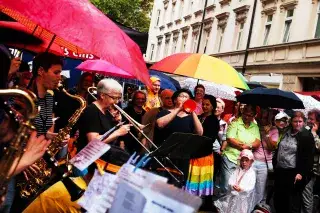 What's going on: The Angertorstraßenfest between Müllerstraße and Blumenstraße heralds the CSD PrideWeek. With information tables, beer garden, dance and music, the lesbian scene in Munich celebrates the summer. At the largest lesbian street party in Bavaria, DJs are playing already in the afternoon, while refreshments are available in the beer garden for the dance breaks.
Who you meet: Girls, queens, ladies, LGBTQ, lesbian or not - everyone is welcome.
How to get there: Take the subway to Sendlinger Tor or Fraunhoferstraße. An even shorter walk is possible if you take the streetcar and get off at Müllerstraße.
Magdalenenfest in the Hirschgarten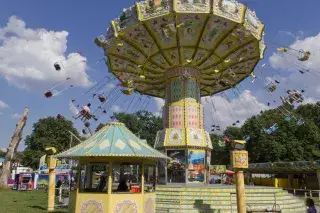 What's going on: The Magdalenenfest in the Hirschgarten is considered an insider tip among folk festivals. Market traders present their wares at many stalls, from cooking pots to dirndls, almost everything is on offer. Car scooters, boat swings and bungee trampolines make children's hearts beat faster.
Who you meet: The traditional folk festival offers fun for young and old.
How to get there: Take the S-Bahn to the Hirschgarten stop, from there it's a few minutes' walk.