Events at the Oktoberfest: Tapping, parades, concert at the Bavaria
Oktoberfest programme of events 2023
There are always some great events at the Oktoberfest that you shouldn't miss: In addition to the traditional tapping, there are also two parades through the city on the first weekend and the concert at the Bavaria is also worth a visit.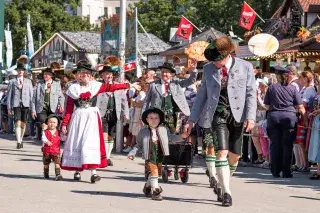 Firecracker shooting at the end of Oktoberfest
Date: Tuesday, 3rd October 2023

Venue: On the steps of the Bavaria statue

What happens: Around 60 men and women give a salute on the last day of the Wiesn on the steps in front of the Bavaria. Punctually from 12 o'clock. This is not only quite loud - but also visually exciting. Because after each bang, dense white smoke drifts over the shooters. But there is no need to take cover: The firecrackers do not shoot bullets, but granulated black powder.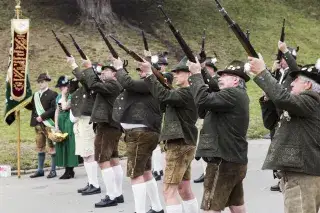 The Tapping
Date: Saturday, 16th September 2023
Venue: Schottenhamel-Festhalle
What happens: With this ceremony, the Oktoberfest is opened every year. In 2023, Mayor Dieter Reiter tapped the first barrel of beer in the Schottenhamel tent with two strokes. Immediately afterwards, saluting shots fired through the air at the Bavaria statue - the sign for all innkeepers that the Oktoberfest has begun. According to tradition, the first "Maß" (1 liter in a mug) of beer goes to the Bavarian Prime Minister.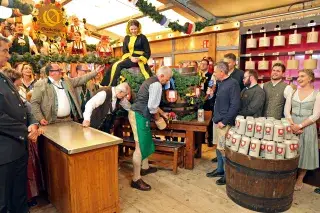 Grand entry of the Oktoberfest landlords and breweries
Date: Saturday, 16th September 2023, duration about 45 minutes
Route: Sonnenstraße-Schwanthalerstraße to the Oktoberfest grounds
What happens: This is the official prelude to the opening of the Oktoberfest and involves about 1,000 participants. They include the tent landlords' families in decorated carriages, the magnificent horse-drawn drays of the Munich breweries, waitresses on decorated floats and all the beer tent bands.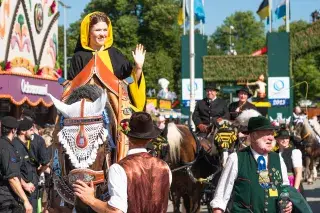 Oktoberfest Costume and Riflemen's Parade
Date: Sunday, 17th September 2023. Duration: 2 - 2 hours 30 minutes, about 9000 performers, 7 km distance

Route: Max II. Memorial to the Oktoberfest grounds

What happens: World-famous procession on the first Sunday of the Oktoberfest. The Costume and Riflemen's Procession gives an impressive insight into how fascinating and diverse the customs of Bavaria, Franconia, Swabia, other German states and neighboring European countries are.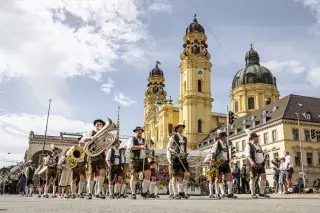 Open-Air Oktoberfest Music
Date: Sunday, 24th September 2023

Venue: On the steps of the Bavaria statue

What happens: A open-air concert of all Oktoberfest bands (with about 400 musicians) takes place on the second Sunday of the festival. It is a tradition that the mayor of Munich also conducts a song.