All info about the Oktoberfest in Munich
Oktoberfest 2023 from 16 September to 3 october
The Oktoberfest 2023 will take place at Munich's Theresienwiese from September 16 to October 3, 2023.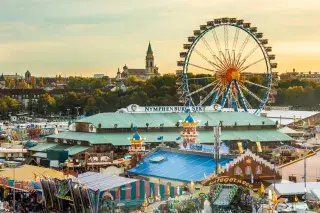 Location: Theresienwiese in Munich
Date: Starts Saturday, Sept. 16, 2023, ends Tuesday, Oct. 3, 2023
Visitors: 5.7 million at the Oktoberfest 2022
History: the first Oktoberfest was held on Oct. 12, 1810
Highlights at the Oktoberfest
With six million guests a year, the Oktoberfest is the largest public festival in the world. No wonder: The Oktoberfest celebrates Bavarian tradition with delicious food, Munich beer and countless rides and attractions on the festival grounds and in the tents. 
Experience highlights such as the Grand entry of the Oktoberfest landlords and breweries, the ceremonial opening of the beer tapping or the traditional costume parade on the first Sunday of Oktoberfest.
In addition, the whole world comes together to celebrate in a total of 17 large and 21 small festival tents.
Especially for visits to the Oktoberfest at the weekends or in the evening, it is worth reserving a table in the festival tents in advance. We have compiled the most important information on table reservations.
Info for visitors and press: Opening hours and more
Date:
Oktoberfest is held annually from the Saturday after September 15 to the first Sunday in October. If October 1 or 2 is a Sunday, Oktoberfest is extended up to and including October 3 (a public holiday in Germany).
Opening hours:
Beer is served in the big festival tents until 10:30 p.m. in the small tents until 11 p.m. — closing everywhere at 11:30 p.m. (Käfer Wies'n-Schänke and Kufflers Weinzelt: Beer serving until 0:30 a.m. — closing at 1 a.m.).
The stalls and rides open at 9 a.m. until 11:30 p.m. or midnight, depending on the day of the week.
The historic Oktoberfest "Oide Wiesn" is open daily from 10 a.m. until 10:30 p.m
Special times on Opening Day (Beer is served from 12 a.m.)
History of the Oktoberfest
1810: Crown Prince Ludwig (who later became King Ludwig I), married Princess Therese of Saxony-Hildburghausen on 12th October 1810. The citizens of Munich were invited to attend the festivities held on the fields in front of the city gates. Horse races in the presence of the Royal Family marked the close of the event that was celebrated as a festival for the whole of Bavaria. The decision to repeat the horse races in the subsequent year gave rise to the tradition of the Oktoberfest.
1818: the first carousel and two swings were set up
1896: beer stands were replaced by the first beer tents and halls
1950: The Oktoberfest is opened for the first time with the tapping of the barrel in the Schottenhamel tent by the mayor.
2010: For the first time, the historic Oktoberfest ("Oide Wiesn") takes place at the south end of the Theresienwiese with historic rides, festival tents and other attractions.