Beer tents, carnies and co: What opens when at the Oktoberfest
Oktoberfest in Munich: Opening hours
The next Oktoberfest in Munich will take place from 21st September 2024 to 6th October 2024. Here you can find the opening hours for beer tents, stalls, rides and the Old Oktoberfest in the big overview (as of 2023).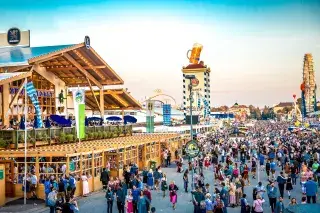 Beer tents
Tapping: Saturday, 21.9.2024 at 12 pm
Tents - beer tapping Saturday, Sunday and public holiday: 9 to 22:30 hrs
Tents - serving of beer on weekdays: 10 to 22:30 hrs
Tents - daily music closing time: 10:30 p.m.
Medium-sized establishments - daily closing time for music and serving of beer: 11 p.m.
End of operation for all large and medium-sized tents: 11:30 p.m.
Käfer Wies'n-Schänke and Kufflers Weinzelt: until 1 a.m., end of serving and end of music at 0:30 a.m.
Rides and attractions
Opening day: 12 pm to midnight
Monday to Thursday: Starting at 10 am, ending at 11:30 pm.
Friday: Starting at 10 am, ending at midnight
Saturday: 9 am to midnight
First and Second Sunday and Holiday: Starting at 9 am to 11.30 pm
The historic Oktoberfest "Oide Wiesn" will not be held again until 2025. Instead, the Bavarian Central Agricultural Festival will be held in 2024.