Discover Schwabing's culinary delights with us!
7 restaurants you must try out in the Schwabing district
Dining between chic art nouveau houses, small shops and cosy bars is what Schwabing is known for! How about Italian pizza or an Afghan dinner with friends? Here are 7 restaurant tips to suit your budget, in the Schwabing district.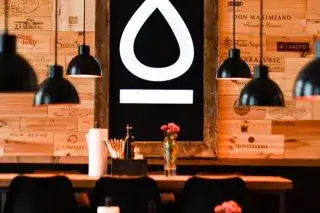 The Cave: Karaoke Bar, Comedy and Grill
Burgers, steaks with BBQ ribs, plus whiskey and music evenings awaits you at the American bar - "The Cave" - on Nikolaistraße. The owners originally wanted to turn the spot into a jazz club, but later decided to offer a wider variety of entertainment. On Thursdays, there is comedy; and on every second Saturday, karaoke evenings take place - where you can eat popcorn. To tune up your voice, the in-house cocktails are definitely recommended.
Nikolaistraße 9a, 80802 München
nine0five: Original Neapolitan Pizza in Munich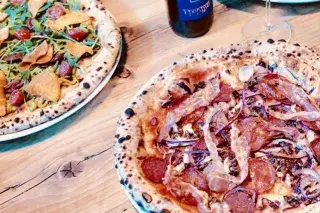 Anyone who has ever been to the birthplace of pizza - Naples - knows how a pizza should look and taste like. Two Munich residents brought this taste to the city together with founder, Sebastian Georgi. It is the "nine0five" concept, originally from Düsseldorf. In addition to special pizza creations, this pizza spot on Herzogstrasse scores cool points with its casual interior design and an impressive wine list. Tip: Make early reservations because we have never seen the nine0five empty!
Herzogstraße 29, 80803 München
Cafe Ludwig: Relaxed breakfast in Petuelpark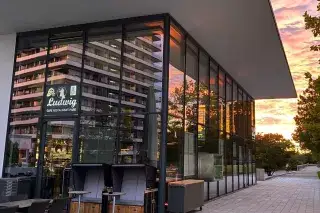 Cafe Ludwig is a must-visit whenever you're in Petuelpark! Cappuccino and a piece of homemade cake are best enjoyed on their spacious terrace. Thanks to the huge glass windows, you'll have the feeling of sitting outside in nature. The Ludwig has a lot to offer and is the perfect place for family celebrations, business lunches or Sunday brunch among friends. Asides the large breakfast selection, there are Bavarian delicacies, upscale steak dishes, and vegetarian dishes of all kinds.
Klopstockstraße 10, 80804 München
Kaisergarten: A beautiful beer garden with Bavarian classics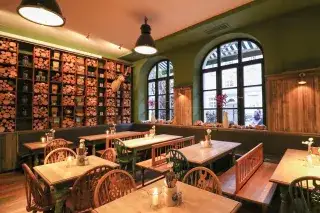 Are you looking for where to feel relaxed while dining? Then the Kaisergarten, located in a quiet location, middle of Schwabing is the right place for you. Surrounded by old chestnuts, you will experience the classic beer garden atmosphere. If the weather isn't ideal, the traditional Bavarian house has a modern rustic parlor (which has been in existence for 100 years) - a perfect meeting place for enjoying a munchy roast pork or a tasty snack. Grab a beer with colleagues after work, if you are not in the mood for Schwabing's hipster bar.
Kaiserstraße 34, 80801 München
ÖEINS: Austro-Pop and Austrian food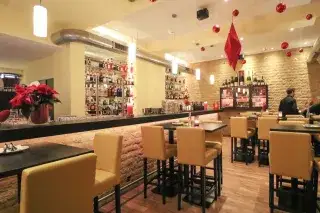 No, this is not about an Austrian radio station, but THE restaurant for Austrian cuisine in Munich - the ÖEINS. The restaurant is located in the bubbling Herzogstraße between Hohenzollernplatz and Münchner Freiheit. So if you fancy Wiener Tafelspitz, Tiroler Blutwurstgröstl, Styrian Backhendlsalat or Salzburger Nockerln, you don't have to drive far. Neighbors would say "Ur leiwand" (best translated as "amazing").
Herzogstrasse 81. 80796 München
Chopan: Afghan specialities and great hospitality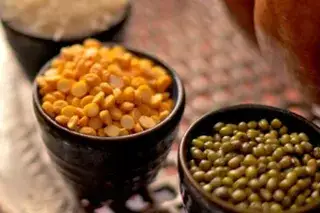 When you enter the Chopan in Occam Street, you will be amazed by the atmosphere around the restaurant. Asides the dimmed light and lovingly detailed design, there are also colorful benches. The exotic smells, open and friendly nature of the staff is great. The dishes are typical specialties from Afghanistan, such as grilled lamb or chicken - but there are also vegan and vegetarian dishes are on the menu. It traditional and above all exquisitly spiced!
Occamstraße 3, 80802 München
HeimWerk: Slow Food and Schnitzel love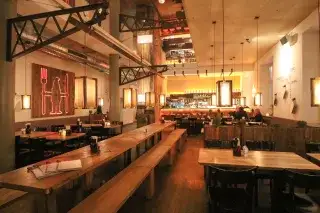 "Regional & Slow Food" is the motto of HeimWerk, located at the corner of Friedrich- and Hohenzollernstraße. Here, traditional Bavarian cuisine meets a modern modular concept, where you can put together your own main course and dessert. In addition to popular classics, you will find Schnitzel in every imaginable variety. Not too hungry? All dishes can also be ordered as take-away, so just get your way through.
Friedrichstraße 27 Ecke, Hohenzollernstraße, 80801 München
Text: Marie-Lyce Plaschka