These are the dishes you must try when visiting Munich
Bavarian cuisine: These dishes have tradition
You are in Munich for a few days and wonder which dishes you have to try to get to know the Bavarian cuisine? We have put together a selection for you:
Schweinebraten and Schweinshaxe: Hearty pork dishes
Pork is served in Bavarian inns mainly in two variants. One is "Schweinebraten" (roast pork), which comes from the back or shoulder of the pig and is braised in the oven. In Bavaria, it is usually served in a sauce of dark beer with dumplings and cabbage salad on the side. "Schweinshaxe" is the name given to the meat that is above the ankle of the pig, which is the pig's foot. This dish is also usually served in a hearty gravy with dumplings or potato salad on the side.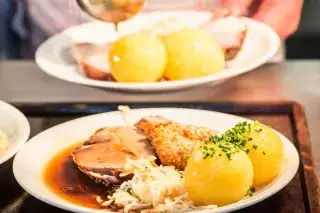 Hendl: Crispy chicken
Not only at the Oktoberfest, but also in Bavarian gastronomy in general, grilled chicken - or "Hendl" as it is called in Bavaria - is very high on the popularity scale. It is usually grilled on a spit, and half a chicken is served per person. It is accompanied by potato salad or French fries, and in the beer garden a large pretzel is also a popular side dish.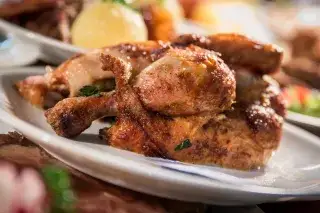 Leberkas: Bavarian meatloaf
Perhaps the most popular snack for in-between meals in Bavaria is the "Leberkassemmel," a sandwich with meatloaf. This snack is offered in practically every butcher's shop, and in Bavaria people eat it with sweet or medium-hot mustard. But the meat loaf is also usually on the menu in Bavarian inns, where it is then usually served with potato salad.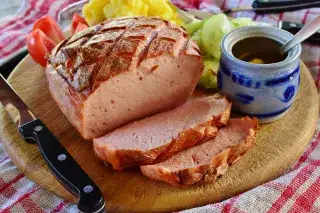 Weißwürste with pretzels: Breakfast in Bavaria
In Bavaria, people also like to eat something hearty for breakfast, and the classic dish par excellence is "Weißwurst" (white sausage) with pretzels. By the way, according to legend, the Weißwurst was invented in Munich in the 19th century. In an original Munich Weißwurst must be veal, usually pork is also mixed in. Weißwurst is served with sweet mustard and in Bavaria people like to drink beer with it. Tradition actually wants Weißwürste to be eaten only before 12 o'clock, but many restaurants now offer the dish all day.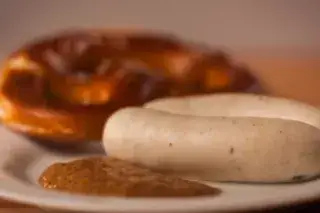 Obatzda: The favorite cheese
Something that should not be missing from any visit to a beer garden: a portion of "Obatzda", which you can then enjoy with a fresh pretzel. In this dish, various soft cheeses such as Camenbert are mixed with butter, cream and onions to create a spreadable mass. The whole thing is then garnished with chives.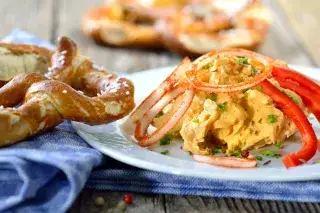 Brotzeitplatte: Enjoy cold
In Bavaria there is a saying: Brotzeit (bread time) is the best time. Accordingly popular is the "Brotzeitplatte" with various small dishes, which is a little reminiscent of Spanish tapas. On a Brotzeitplatte are usually various types of sausage and ham, a selection of cheese, but also, for example, radishes and pickles. Often you will also find meat patties on a snack platter, which are most comparable to the meat patties of a burger. Not to everyone's taste, but also often part of the snack platter: The "Presssack", a type of blood sausage consisting mainly of offal to which pig's blood is added.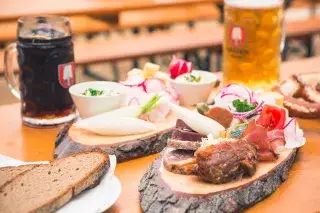 Kasspatzn: The vegetarian alternative
Bavarian cuisine is actually very meat-heavy, but of course there are vegetarian alternatives in the inns. What you can get in practically every inn are Käsespätzle or, as they are called in Bavaria, "Kasspatzn". These are small pieces of dough made from flour, eggs and mineral water and then briefly cooked through in hot water. They are then baked with cheese such as Emmentaler and served with roasted onions.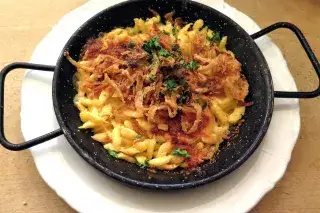 Wurstsalat: A beer garden classic
Not surprisingly, Bavaria's most popular salad also features meat: the basis of a Bavarian "Wurstsalat" (sausage salad) is - as the name suggests - sausage, usually a Lyoner or Regensburger. In a classic sausage salad are usually only onions, vinegar and oil, but often it is combined with cheese or pickles. This variation is also known as Swiss sausage salad. A sausage salad is a popular snack in Bavaria and also in the beer garden it is ordered with pleasure.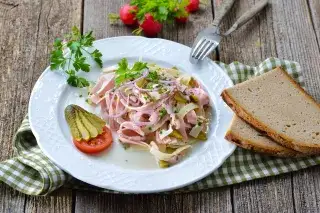 Steckerlfisch: Fish on a stick in Bavaria
So that no misunderstandings arise: Fish is very popular in Bavaria, as a rule, you can get several fish dishes in any Bavarian restaurant. However, the so-called "Steckerlfisch" is particularly traditional in Bavaria. For this, whitefish caught in local waters, but also farmed fish such as trout, mackerel or char are used. These are then taken in one piece on a skewer and grilled, usually marinated beforehand. Many beer gardens have a stand where the fish are prepared in this way, and Steckerlfisch is also an absolute classic at the Oktoberfest.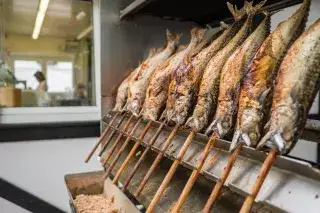 Sweet desserts in Bavaria
Desserts in Bavaria are delicious, but also very substantial: so if you eat dessert here, you should still have a little bit of hunger left. "Dampfnudeln" (steam dumplings), for example, made from yeast dough and served in vanilla sauce, are popular. "Germknödel" (yeast dumplings) have a certain similarity, with the difference that they are often also eaten with melted butter and poppy seeds. "Kaiserschmarrn" originated in Austria, but you can usually find the fried dough with raisins, usually served with applesauce, on most Bavarian menus as well. "Bayerische Creme" (Bavarian cream), on the other hand, actually comes from Bavaria and the cream made of milk, egg yolk, sugar, whipped cream and gelatin is still the lightest dish of the desserts listed here.