Breakfast and brunch: Our tips from classic to vegan
Breakfast and brunch in Munich: Beautiful breakfast cafés near the city center
Where to go when your stomach growls in the morning? Whether vitamin-rich bowls or a hearty breakfast of veal sausage: We show breakfast places for the next brunch in Munich.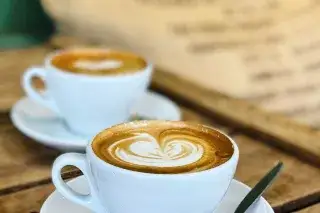 French feast at Café Marais
The Café Marais is off the beaten tourist track. From eight o'clock in the morning, on Sundays from ten o'clock, you can get one of the best cereals in town here. And you'll be sitting in a café whose entire furnishings and decorations (eg trays, candlesticks, cake plates) are for sale. Accessories are also available: scarves, hats and buttons are stored on shelves.
What's on offer? Paninis, croissants, yogurt or muesli with fresh fruit and homemade cakes.
Location: 

Parkstraße 2, 80339 München -

Westend (near Hackerbrücke)
Family brunch at Café Glückskind
The Glückskind family café offers excellent coffee, breakfast and its own play and toddler corner with picture books, building blocks and dolls for moms and dads and their little ones. In summer, the café's own terrace in the green courtyard invites kids to romp in the fresh air. And if you want to be back on your way in no time, you can take the rolls from the bakery in the front part of the café with you.
What's on offer: Omelets, pancakes or even salads and tarte flambée. For the little ones, every dish is also available as a children's portion at half price.
Location: Seeriederstr. 9, 81675 München - Haidhausen (near Max-Weber-Platz)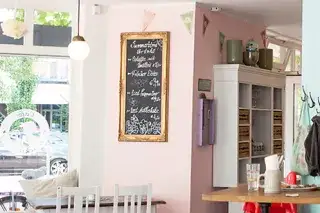 Start the day comfortably at Trachtenvogl
You can sit here on comfortable couches, in 60s armchairs under the cuckoo clock or at wooden kitchen tables like at home with your parents: the Trachtenvogel combines feasting with Bavarian vintage flair. It's the perfect place for a late brunch among friends or even for a quick breakfast before you head out shopping in the area around Gärtnerplatz.
What's on offer: In addition to a huge selection of hot chocolate creations, you can choose between juniper ham and Allgäu mountain flower cheese, the vegan raspberry-banana bowl or the typical Munich Weißwurst breakfast.
Location: 

Reichenbachstraße 47, 80469 München

(near Gärtnerplatz).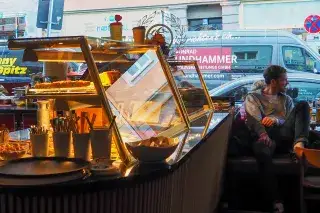 Uncomplicated enjoyment at Café Voilà
A typical city district location, where a huge breakfast menu awaits hungry guests from eight o'clock. Old-established Munich locals, students and young mothers come here. Tip: Choose a table in the back area, where large mirrors and crystal chandeliers under a stucco ceiling spread Parisian flair.
What's on offer: If you like it hearty, order the US breakfast version with cornflakes, grapefruit and roast beef in the café. If you want fish, the Scandinavian version with shrimp and salmon.
Location: 

Wörthstraße 5, 81667 München -

Haidhausen (near Ostbahnhof)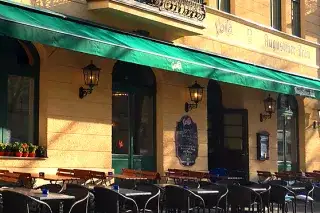 A relaxed atmosphere, delicious food and warm hospitality: Emmi's Kitchen invites you to linger and feast. Prejudices about vegan food not being tasty or filling are left at home. Instead you'll find creative, completely vegan cuisine here, ranging from breakfast classics to sweet sins.
What's on offer: Tofu scrambled eggs, cinnamon buns, pancakes: Every vegan - and non-vegan - heart beats faster here!
Location: Glockenbachviertel (

Buttermelcherstraße 11-15, 80469 München),

Giesing (

Werinherstraße 69, 81541 München)

and Schwabing (

Wilhelmstraße 43, 80801 München)
A girl's dream: The Café Lotti
The Lotti is a pretty girl's dream in white, rosé and pink. Everything here is very homely, regionally and environmentally conscious: the young owner Sabrina gets her cheese from her aunt Berta's farm cheese dairy, the eggs from her friend organic farmer Franze and the sausage from her great cousin Hansi.
What's on offer: In the morning, delicious yogurt with fresh fruit and muesli (soy yogurt is also available for vegans). If you prefer something hearty, order the typical Bavarian white sausage and pretzel.
Location: 

Schleißheimer Str. 13, 80333 München -

Maxvorstadt close to the city center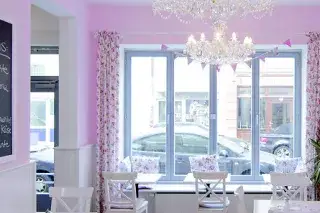 Relax on the roof terrace at Ruffini
Ruffini is a real Italian cantina: a self-managed business without a boss, but with 25 shareholders. That's why the breakfast options are also available with countless possibilities for co-determination, ie variation. Tip: Enjoy the much-praised latte with croissant on the roof terrace!
What's on offer: Bread baskets with homemade bread, butter, jam, eggs, ham, salami, cheese
Location: 

Orffstraße 22-24, 80637 München -

Neuhausen-Nymphenburg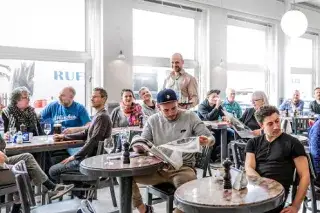 Bavarian Weißwurst breakfast at Beim Sedlmayr
Just a hundred meters from the Viktualienmarkt , the former restaurant of folk actor Walter Sedlmayr serves an original Munich Weißwurst breakfast from 10 am (closed on Sundays). While enjoying the white veal sausages from the Wallner butchery, you sit comfortably at wooden tables. But as is the case with good traditional restaurants: It doesn't hurt to make a reservation, the inn is very popular.
What's on offer: An original and authentic Munich Weißwurst breakfast.
Location: 

Westenriederstraße 14, 80331 München (near

Viktualienmarkt)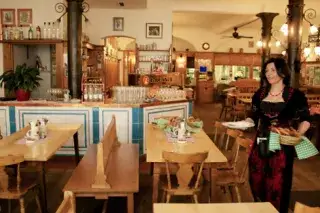 Breakfast in style at the Bayerischer Hof in the city center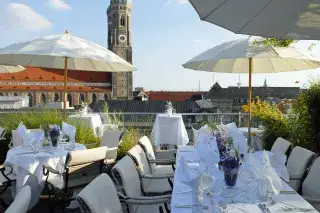 Breakfast in Munich at 6 a.m.? If you want something really special, the Bayerischer Hof on Promenadeplatz is just the place. Here you can enjoy breakfast at such an early hour. Simply board the elevator opposite the reception area and up you go to breakfast delight.
What's on offer: As early as 6 a.m., a champagne breakfast with buffet is on the menu, and a little later you can enjoy breakfast on the roof terrace of the Bayerischer Hof. Here you can eat à la carte - with a magnificent view on top.
Location: Promenadenplatz 2-6, 80333 München, right in the center of town
They are all healthy, whether with mango and pineapple, peanut or chocolate and avocado: the trendy smoothie bowls at Wagner's Juicery. And design lovers will also get their money's worth at Wagners: The interior is clean-minimalist - with beautiful details like copper-colored globe lamps, gray-washed walls, and cozy armchairs by the sunlit window front.
What's on offer: The trendy breakfast favorite: smoothie bowls. Also on the menu are soups, sandwiches, hearty bowls and huge chunks of banana bread.
Location: 

Fraunhoferstraße 43, 80469 München -

Glockenbachviertel (near Gärtnerplatz).
Historic ambience in Café Luitpold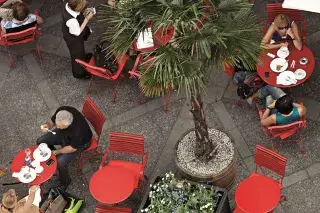 Café Luitpold in Brienner Straße offers a historic but modern ambience. The coffee house has been around since 1888. Once you make it past the large counter with all kinds of chocolate-heavy delicacies, you should try to catch a seat in the palm garden.
What's on offer: Fresh juices and small specialties like mini white sausages or a good Bircher muesli are recommended highlights of Café Luitpolds.
Location: 

Brienner Str. 11, 80333 München

, close to Wittelsbacherplatz.
The Tresznjewski: A classic in Maxvorstadt
The Brasserie Tresznjewski is one of the classics when it comes to breakfast in Munich. Because here the breakfast guest is not served pressed ham or orange nectar, but food that you can see the quality.
What's on offer: An extensive breakfast menu offers something for every taste, from Tuscan to wellness breakfast. The nice thing about it: all the ingredients are fresh and appetizingly arranged on the plates.
Location: At

Theresienstrasse 72, 80333 München

, near the museum district.
Vegan or vegetarian at Café Ignaz
Café Ignaz is a hot tip not only for vegetarians and vegans. Hearty food is also possible in a different form, for example with one of the numerous salads or cheese varieties. In addition to the variety, Café Ignaz also impresses with very moderate prices. The neighborhood also stocks up on breakfast pastries here.
What's on offer:

 

Colorful fruit, fine pastries, muesli, egg, crumbly cakes and numerous spread options.
Location:

 Georgenstraße 67, 80799 München
Text: Margot Weber und Marie-Lyce Plaschka (Glückskind, Trachtenvogl)
Photos: Café Voilá, Café Marais, Café Lotti, Café Ruffini, Beim Sedlmayr